Payments
The future of payments is now
The payments market is developing at a rapid pace. Apple Pay, Wechat, Garmin Pay, Bunq, PSD2, Payment requests, Instant Payments are just a couple of developments that will influence industry dynamics and influence customer payment behaviour moving forward. Let alone the customer's ever-increasing expectation to access and use these services in a digital and seamless way. What will the payments world look like in the future?
Instant Payments
We live in an online and instant society, and payments is no exception. Today's customers expect digital transactions and services that are always online, instantly available and on-demand. Corporate treasury is faced with 24/7 incoming and outgoing payments and need to prepare their organisation for this change. As Instant Payments (or real-time payments) is gradually becoming the new normal in payments, it is imperative for financial service providers to have Instant Payments capabilities to remain relevant in the future.
We believe, that Instant Payments will also for SME's and corporates become the new standard. In contrast to retail customers, financial services providers still have plenty of opportunities to sustain their relevancy and show their corporate customers how to unlock the Instant Payments potential and create value.
Developing strategy
At INNOPAY, we support our clients defining and developing their Instant Payments strategy. We help financial service providers set out strategic direction and define value propositions that are relevant for both corporate and retail customers. Using our combined knowledge in open banking, cybersecurity and two-sided markets, we deliver a broader perspective to Instant Payments. Recently, we helped a banking association in formulating their vision and strategy
Virtual bank accounts
As banks, their competitors and corporate clients transform digitally, the very fundamentals of Banking are being disrupted. Physical bank accounts are no longer the preferred solution to reconcile incoming payments and segregate cash positions: Virtual Bank Accounts are the Payment Innovation corporates ask for. In their most basic form, Virtual Bank Accounts help these corporates increase their reconciliation rates. But several banks have shown that Virtual Bank Accounts can also help corporates centralise cash in one physical account – taking away the need for expensive cash & liquidity management products, such as cash pools.
The number of banks offering mature Virtual Bank Accounts propositions, however, does not quite live up to the hype surrounding the Payment Innovation… yet. Banks are struggling with the commercial, technical and regulatory questions that surround 'going virtual'.
Unleashing the full potential
We help banks determine whether to go virtual or not. It is well-positioned to advice banks on the business case, as well as the technical and regulatory impact, of implementing Virtual Bank Accounts. It helps banks choose the right Virtual Bank Accounts-strategy, -proposition and (if necessary) -vendor, and advices banks on how to execute this strategy.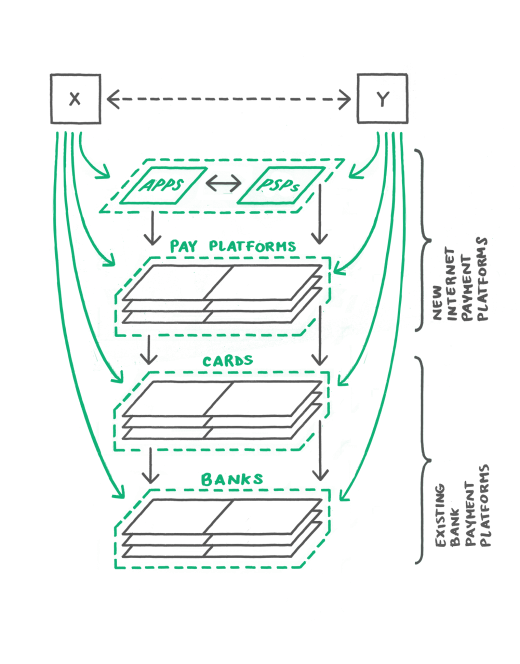 Payment product portfolio strategy
To expand their service offerings, increase number of customer touchpoints and improve their access to relevant customer data, companies are increasingly offering payment propositions. Opportunity or threat? Either way: be ready for the future where customer interactions and data driven services are key for future relevance. 
Do you want to learn more about our payments proposals? Contact us!
Let's get in touch
Ready to do business with the experts at INNOPAY?