Award-winning management book 'Alles Transaktion' launched at TRX 22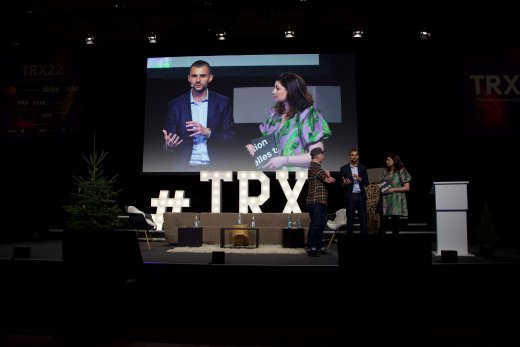 INNOPAY has launched the German version of its award-winning management book 'Everything Transaction' ('Alles Transaktion' in German) during the Transactions (TRX) event today. The book is co-written by Shikko Nijland, Douwe Lycklama and Chiel Liezenberg, three partners at the international consulting firm that is specialised in digital transactions.
In an increasingly digital world, every interaction is becoming a transaction. These transactions go beyond the exchange of money in return for a product or service. Exchanges based on data are rapidly becoming the norm in the digital world. Data-driven transactions are becoming relevant across industries, and especially in the financial services industry in the shape of 'Open Finance'.
Financial institutions have reached a strategic crossroads and now need to answer several fundamental questions, including: How will transactions evolve in the context of financial services? What role should entities like financial institutions and service providers play? And which commercial opportunities and risks are involved? These and many more questions are answered in 'Alles Transaktion'.
Mounaim Cortet, Country Manager for INNOPAY in the DACH region, explains: "Our book offers numerous up-to-date insights and concepts for players operating in an increasingly data-driven economy. As a result, it helps executives to better navigate the digital world and supports their strategic decision-making in the context of Open Finance."
In 2019, the Dutch version of 'Alles Transaktion' was named Best Management Book of the Year by the online book platform Managementboek.nl.
TRX 22
TRX is Germany's pioneering event for payment, banking, tech, digitalisation and the platform economy. It is organised by Payment & Banking, a leading association of the key driving forces in the German fintech industry and operator of Paymentandbanking.com, one of the most important finance blogs in Germany. Each year, thought leaders from the national and international digital business gather at TRX to provide an outlook on the most important industry trends.
Book presentation
On Friday 25 November, INNOPAY will present the book 'Alles Transaktion' in conjunction with Payment & Banking at TechQuartier in Frankfurt. Jochen Siegert, co-founder of Payment & Banking, will chair a discussion with the authors of the book as well as Mounaim Cortet.
If you would like to attend the book presentation, please sign up here.
Let's get in touch
Ready to do business with the experts at INNOPAY?