Open Banking Monitor (OBM) 2019: let's take a moment to make up the rankings and identify potential new "Masters in Openness"
Looking back on a much eventful year in Open Banking; various banks have updated their Developer Portal in the last quarter of 2018, either by expanding the Functional Scope, by offering more APIs, or by introducing tools and features improving the Developer Experience. Predominantly with the shared goal of attracting more end-customers, better servicing developers to work with the bank's APIs and strengthening their overall position in the Open Banking landscape.
For some banks, however, when it comes to Open Banking, stagnation also means decline, as other banks are not resting on their laurels. New functionalities and (extension of) developer tools continue to be added by the 'Masters', whereas other banks are struggling to keep up that much desired pace. Slowly, but surely banks develop the required capabilities to excel in Open Banking, with many banks learning from each other's releases to shape their own journey.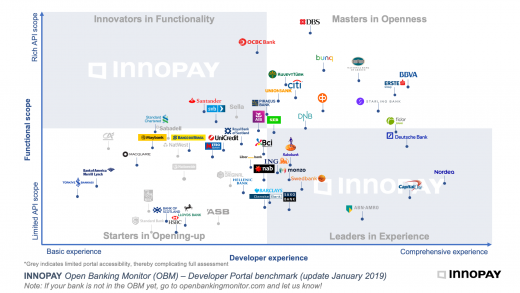 Compelling developments through creative API design and introduction of co-creation
OCBC and Capital One have put great effort to update their Developer Portal. Where OCBC has added several functionalities in the area of account data and customer functions, they've also introduced some new unique features, such as "Request credit limit increase API" (i.e. an API for requesting a credit limit increase) and "Off-boarding API" (i.e. deregistration of a corporate bank account from the account repository). Capital One has improved on Functional Scope and Developer Experience and seems to be heading towards a collaborative API marketplace. Capital One provides articles from (external) Open Banking experts and developers to collaboratively introduce app ideas and offer hands-on use-cases of APIs. This will most likely lead to easier idea generation and will guide the developer further towards consuming the Capital One APIs. Capital One has also made additions for their identity API, besides federated login, they offer three variances 'Sign up', 'Sign in' and 'Verify ID', letting other parties use the verified identity of Capital One users.
The National Bank of Greece (NBG) introduced a "Biometrics API", for comparison of faces in images and also check the actual liveliness of a person in a video (i.e. making sure that it is a person and not e.g. a picture). NBG also offers a "Crowdfunding API" letting third parties integrate their crowdfunding application with NBG's digital channels. This lets (smaller) third parties benefit by collaboration with a crowdfunding platform. Kuveyt Turk, as a newcomer to the OBM, offers besides a wide range of APIs also an "Incident Operations API", where incidents can be created and managed. Nordea has introduced an "Instant Reporting API", increasing the value of account data functionalities by providing real-time account information. ERSTE Group has done a great update on their sandbox extending many functionalities we haven't seen before (e.g. variances in required authentication, user friendly example values, easy switch to production data etc). This makes the testing environment very developer friendly!
Welcoming new banks to the Open Banking landscape
Piraeus, Den Norske Bank, Nationwide, Kuveyt Turk and Liberbank have been added since the last release of the OBM in September 2018. From a Developer Experience perspective, it is worth mentioning the different approaches to handling and making available the API Documentation. Whereas Nationwide is offering their full API Documentation (based on UK Open Banking[1]) by including a link to the Open Banking website, Den Norske Bank is offering their API Documentation by using ReDoc, i.e. an open source swagger generated API reference documentation. As discussed in the previous release of the OBM, ReDoc might be a solution to start with standardisation of the Developer Experience components, in this particular case API Documentation.
Conclusion
The Open Banking landscape continues to evolve, as evidenced by the developments since our last update around three months ago. Various new ideas and APIs have been introduced, also as a result of collaboration between banks and third parties. The clarity and similarity of functionalities and tools shows that banks are increasingly learning from each other, strengthening the cohesion between banks and third parties. This will likely result in some exciting developments in the Open Banking landscape in the course of 2019 that we will capture in our periodic OBM releases. Stay tuned for more updates!
Other updated developer portals: Starling, SVB, Deutsche, Bunq, Swedbank, Allied Irish Bank, Standard Chartered.
Banks with limited or no accessibility of their developer portal: CA, Sabadell, Royal Bank of Canada, ASB, Natwest, Standard Bank, Original Bank, Banca Sella, Nationwide, Wells Fargo, JP Morgan.
---
[1] UK Open Banking - https://www.openbanking.org.uk/
Let's get in touch
Ready to do business with the experts at INNOPAY?