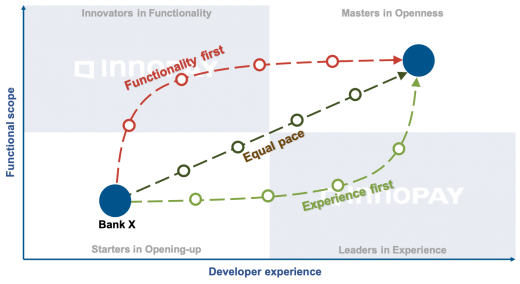 Open Banking is set to transform digital experiences through compelling value propositions developed by third parties leveraging access to bank resources. Banks are starting to engage by publicly launching their own Developer Portals including APIs and sandbox environments. While some banks simply seek to meet PSD2 compliance requirements, others pursue a comprehensive strategic play. As this domain is rather new for banks, the level of maturity of their capabilities differs considerably. Banks that are able to put the required capabilities in place to seamlessly engage with third parties, and facilitate an Open Banking ecosystem through its platform, will benefit from an early mover advantage. The INNOPAY Open Banking Monitor provides a perfect tool for this strategic capability assessment.
Project Result
INNOPAY was requested to support the client in shaping and refining the client's Open Banking API and developer portal roadmap. Based on best practices of 100+ bank developer portals, we provided our client detailed strategic insight how to shape and prioritise their API and developer portal roadmap. This insight was used to gain a better understanding of the clients relative positioning and performance compared to other banks and the capabilities needed to excel in Open Banking moving forward. In addition, it contributed to a better understanding among relevant business stakeholders and broader visibility within the organization.
Project approach
INNOPAY conducted a detailed analysis by benchmarking the client's Open Banking developer portal vis-à-vis a number of specifically selected peers based on the 100+ banks in the Open Banking Monitor and underlying Developer Portal Capability model consisting of 50+ capabilities. This created insight in the key strengths of the current developer portal and potential capability areas to improve based on global best practices. In combination with expert workshops we created a prioritised capability roadmap to optimise, expand and accelerate the client's Open Banking API strategy and roadmap.
Let's get in touch
Ready to do business with the experts at INNOPAY?