What is happening in Open Banking?
Innopay follows the developments of the Open Banking landscape with great interest. What is actually happening in the Open Banking landscape? Which banks have exposed APIs and what do they offer exactly? Through our Open Banking Monitor we share our insights and analysis with the community.
INNOPAY's Open Banking Infographic
What happened in Open Banking in 2019 and what does that imply for 2020? We recapped the most important developments in the Open Banking landscape in the infographic below!
Latest blog of the Open Banking Monitor
Have a look at our latest blog of the INNOPAY Open Banking Monitor: "Banks moving beyond the PSD2 requirements". In which we dive into the activity regarding the EU's compliance deadline for PSD2, describe the current state-of-play and seek to identify the new Masters in Openness.
Previous blogs & whitepaper
To view our previous releases and to gain an understanding of the progress banks have made along the way, have a look at:
Which banks have been included?
Innopay's Open Banking Monitor assesses publicly available developer portals of banks. If your bank is not included in the Open Banking Monitor yet, send an email to info@innopay.com and let us know!
Launch of developer portals
When did these banks decide to start 'Open Banking' and go live with their developer?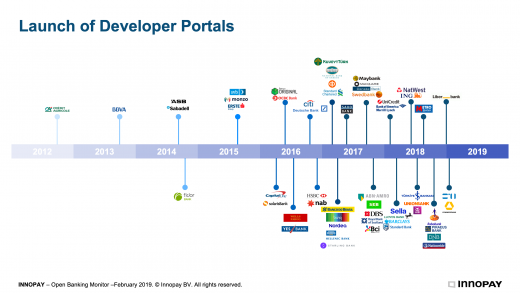 Let's get in touch
Ready to do business with the experts at INNOPAY?