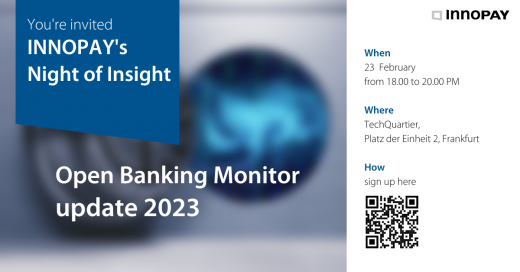 TechQuartier, Platz der Einheit 2, Frankfurt am Main
INNOPAY's Night of Insight: Open Banking Monitor Update
On Thursday 23 February we will organise INNOPAY's Night of Insight from 18:00-20:00 at the TechQuartier in Frankfurt. This bi-monthly event at our offices is centred around sharing the latest findings from both our market research and our project experiences. We will kick of the event series with a session on the latest iteration of INNOPAY´s much-anticipated Open Banking Monitor.
During the Night of Insight, we will especially zoom in on how financial institutions in Germany have developed their product offerings and progressed on their Open Banking journey.
There are plenty of reasons to sign up for this event. You will gain the newest insights into how financial institutions in Europe and particularly in Germany, Austria and Switzerland have evolved their API propositions and progressed on their Open Banking journeys. Additionally, we are happy to announce that Marvin Vortkamp, business development manager at Wallis, will be joining us to share details of how Wallis has become Sparkasse's Open Finance Hub. 
We hope to see you on Thursday 23 February! 
Where:           TechQuartier, Platz der Einheit 2, Frankfurt am Main
Date:              Thursday, 23 February 2023
Time:              18:00-20:00 PM