Why corporate treasurers need Open APIs
The COVID-19 pandemic has accelerated the ongoing digital transformation process globally. This has also caused corporate treasurers to explore opportunities to digitise their business operations and look for possibilities to accelerate and optimise their decision-making. However, traditional digital channels are not equipped for real-time, on-demand access to data and other digital capabilities. In this blog, we explain why Open API technology is well suited to meet ever-evolving treasury needs in the digital era.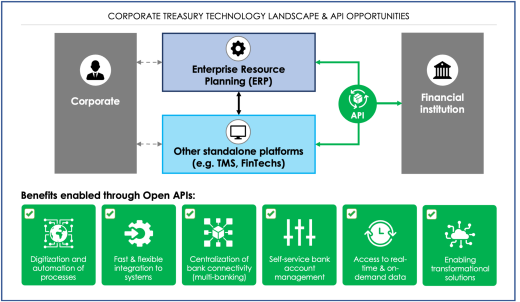 Open APIs provide opportunities across all treasury service domains and enable corporate clients to consume banking services directly via their ERP or other relevant standalone platforms. APIs simplify and improve how treasurers work together with their transaction bank(s) thanks to:
Digitisation and automation of processes
Fast and flexible integration to systems
Centralisation and embeddedness of bank connectivity (multi-banking)
Self-service bank account management
Real-time and on-demand information to drive data-based decision-making
Enabling transformational solutions
APIs help to reinvent how corporate clients manage payables and receivables, access account reporting and execute FX trades, for instance. Other use cases include electronic bank account management (eBAM), liquidity optimisation and financing (lending, trade finance, supply chain finance).
While initial Open Banking API solutions focused primarily on the retail segment (driven by PSD2), the corporate segment is rapidly catching up. This is evidenced by corporates increasingly buying into Open API-enabled solutions to improve their treasury operations.
However, although APIs are likely to play a growing role in shaping 'real-time, on-demand treasury', an API in itself has no intrinsic value. Corporates, transactions banks and technology providers therefore need to work together to address key challenges, including:
Establishing a fit-for-purpose operating model to support API provision and consumption
Collaboratively building value-adding propositions based on customer pains and gains
Creating a 'plug-and-play' experience based on clear API documentation, standardisation and integration partnerships
We are convinced that collaboration is essential to unlock the full value of APIs, increase adoption at scale and meet ever-evolving treasury needs in the digital era.
Download the whitepaper written by RBI & INNOPAY
Raiffeisen Bank International has worked together with INNOPAY to coproduce a white paper titled 'The New Frontier in Transaction Banking, unlocking the value of Open API technology'.
Let's get in touch
Ready to do business with the experts at INNOPAY?