Open Banking and TPPs trigger banks to innovate their corporate onboarding processes
PSD2 has been an important catalyst for banks to open up. While many banks in Europe are still focused on making the PSD2 deadline of September 2019, we see some leading banks move beyond compliance and shift towards Open API Banking. In this emerging Open Banking play, banks start to understand that enabling secure access to customer data is the new money, an outstanding customer experience is pivotal, and trust is the primary condition.
The benefits of Open API Banking are multifold, however, they require collaboration with third parties to enrich the customer journey and introduce new financial services based on data. This forces banks to rethink their strategy for client products and services and manage the challenges that come with opening up.When collaborating with third parties, differences in for instance client segments and value propositions, compliance, quality of service and last but not least security protocols, will need to be tackled.Trust and confidence in the financial system can easily be damaged and breaking them can negatively influence the reputation of all parties involved. 
With their economies of scale, banks can lay the foundation for an open trusted financial ecosystem in which they can safely collaborate with Third Party Providers (TPPs). To do so, a digital, secure and customer centric corporate onboarding process for TTPs is essential. It will enable banks to further commercialise their role of trusted advisor and create value in safeguarding their customers' identity and put them in control of sharing their data.
Corporate onboarding essentially is about creating a customer identity for a new legal entity and charging it with all things required to deliver the requested product or service. 
TPPs are a crucial success factor in creating customer value 
For corporate banks, the primary customer relationship is essential in maintaining a profitable and future proof business.Current corporate onboarding processes however are time-consuming, costly and deliver a poor customer experience. Already in 2014, Forrester research[1] demonstrated that the onboarding experience correlates with the profitability of practically all (98%) customer relationships. Deals are lost and business development rates are low. An outstanding onboarding experience will improve conversion rates, time to revenue and cross- and upsell, and, thus, contribute to customer value. With the financial industry opening up, onboarding becomes even more relevant as banks need to constantly prove their relevancy as other players will try to disintermediate existing client relationships.
PSD2 allows TPPs to access bank customers' payment accounts for Account Information Services (AIS) and Payment Initiation Services (PIS). Open Banking goes beyond PSD2 andallows banks to create customer value by sharing customer (data) resources with TPPs in a secure way, through the use of open application programming interfaces (APIs). Consequently, banks need to onboard TPPs and, since they have all kinds of corporate identities (f.i. financial institutions, BigTech, FinTech, Retailer, SMEs), several corporate onboarding processes will apply.
For regulated PSD2 services, a standard procedure on how to onboard TPPs is prescribed in the Regulatory Technical Standards (RTS). However, for Open Banking no standards apply. The diversity of TPPs and functionality of APIs is unfamiliar territory for banks. As this impacts the risk profiles and the KYC obligations and attributes needed to charge the corporate TPP identity, banks tend to be hesitant and fall back on their existing processes. 
However, instead of onboarding TPPs via the existing siloed, cumbersome, and costly processes, banks should seize this opportunity and design a modular, digital, and secure TPP onboarding process. 
How to best seize the opportunity and innovate corporate onboarding
When innovating corporate onboarding, all types of TPPs and APIs offered should be considered. It is therefore important to start with 'the end in mind' and go for flexibility. Where current onboarding processes are often static, new processes should consist of generic building blocks that can be deployed depending on f.i. TPPs identity, services offered, type of APIs offered by TPP and the risks involved. This results in a flexible onboarding architecture as depicted below: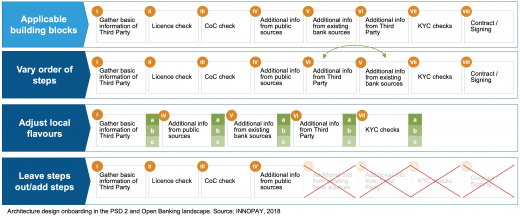 The onboarding process should aim for convenience and ease of use, while gathering all attributes required, minimising risks, and adherence to KYC obligations where needed. A flexible architecture therefore comprises of:
Variation in the order of steps: offer a relevant and tailored onboarding experience; 
Adjust to local flavours: f.i. KYC requirements could be a quick check against sanction and PEP lists, but could also include full identification procedures;
Leaving out steps: when onboarding a TPP that offers APIs with limited risk exposure, f.i. finding the nearest ATM, there is no need for building blocks 4 –7. When a TPP offers PSD2 APIs only, you are only allowed to apply building block 1.
In short, with the PSD2 compliance agenda slowly dropping in priority, banks should start with designing and implementing a digital, secure and customer centric onboarding process for all TPP identities. An important step for banks to further leverage their role of trusted advisor, create value for their customers through API's and strongly position themselves into the Open Banking play.
---
[1] Client-Centric Onboarding, Hopes and Realities For Global Banks – Forrester (2014)
Let's get in touch
Ready to do business with the experts at INNOPAY?