The Paypers publishes Open Banking Report 2021 including contributions from INNOPAY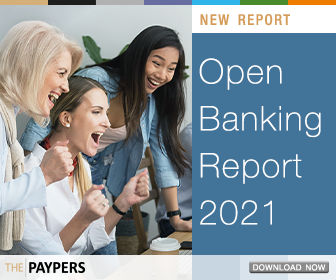 The Open Banking Report 2021, which has just been published by The Paypers, follows the race for relevance in banking and explores how Open Banking is inching closer to Open Finance and the Open Data Economy. INNOPAY has contributed to this publication on topics including new business and monetisation models, and consumer education, data, and digital readiness.
As the world struggles to return to a pre-pandemic state, The Paypers sat down with industry experts to track the progress in innovation, changes in customer behaviour and education, regulation influence over the market, and the status of competition in different verticals. The result is the Open Banking Report 2021, a publication with a focus on the common good: improving the customer experience through new and innovative solutions.
To explore the theme of Open Finance and the race for relevance and new business models in banking, the Open Banking Report 2021 is structured in nine comprehensive chapters. They include coverage of the regulation-driven and market-driven global landscape, embedded finance, payments innovation and Banking-as-a-Service. INNOPAY contributed to the chapters on Open Banking new business and monetisation models, going beyond Open Banking, and consumer education, data and digital readiness.
Moreover, this year's edition of the Open Banking report includes an updated version of the key infographic and industry mapping of all solution providers in the world of Open Banking.
"We are really grateful to INNOPAY for joining us as key endorsement partners in this exciting initiative, and thank them for their valuable contributions which bring an in-depth and educational perspective, thus helping us provide an insightful overview of the Open Banking and Open Finance ecosystem," comments Oana Ifrim, senior editor at The Paypers.
Let's get in touch
Ready to do business with the experts at INNOPAY?