'Ready or not?' Euro Banking Association (EBA) publishes practitioners' guide to the Digital Operating Model for Open Banking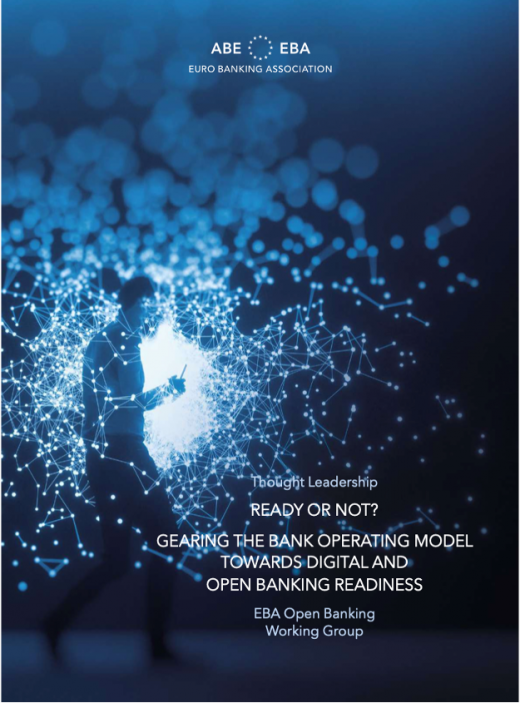 Supported by INNOPAY, the EBA Open Banking Working Group (OBWG) has published a report titled 'Ready or not? Gearing the bank operating model towards digital and Open Banking readiness'. Specifically aimed at those responsible for Open Banking within their organisation, the report supports them on their journey towards future-proof operations – regardless of their starting point.
The 'Ready or not?' report addresses both the general implications of digital readiness and the specific requirements for the successful implementation of Open Banking at the operating model level. It is designed to provide a reference point when transforming the operating model and to help the people responsible to execute their Open Banking strategy in the emerging digital environment.
Challenged by the changing environment, different banks are pursuing different strategies to achieve digital readiness. The report identifies five common underlying design principles for future-proof banking operations: 
Customer-focused – embedding products and services at point of relevance for the customer 
Data-driven – expanding data availability with consumption of external data sources 
Openness-oriented – allowing interaction with third parties and ecosystems 
Technology-enabled – supporting state-of-the-art API infrastructure 
Adaptive to change – increasing flexibility and reducing the time to market for new propositions 
The report is based on interviews with Open Banking experts from various European banks combined with INNOPAY's extensive experience in the field of Open Banking and operating model design. It explains how the design principles can be applied in practice to all aspects of a bank's operations, right down to activity level. 
An abstract of the paper is available to everyone on the EBA website (and members can gain online access to the full report). If you have any questions, whether about the report or about operating models for Open Banking, please reach out to Mounaim Cortet.
Let's get in touch
Ready to do business with the experts at INNOPAY?