Restoring the data-benefit balance in the age of Meta's choices
Meta's recent message to its European users, offering them a monetary transaction choice, reflects the evolving landscape of digital consciousness. However, this transformation is not so much driven by Meta's desire for better digital world, but mainly a response to European regulatory pressure. So to what extent does this move restore the 'data-benefit balance' for users of Meta's services?
Social media giant Meta recently presented its European users with a message about the latest update to its terms and conditions. The pivotal change is that by offering users options regarding their data usage and advertising exposure, Meta is now explicitly drawing them into a data transaction. The three options are
Pay up: For a subscription fee starting at €12.99 per month, users can purchase privacy and an ad-free user experience.
Continue to use for free: Users can continue using Meta's services for free. In return, they allow their data to be used by the company.
Discontinue the service: The third option is to stop using Meta's services entirely.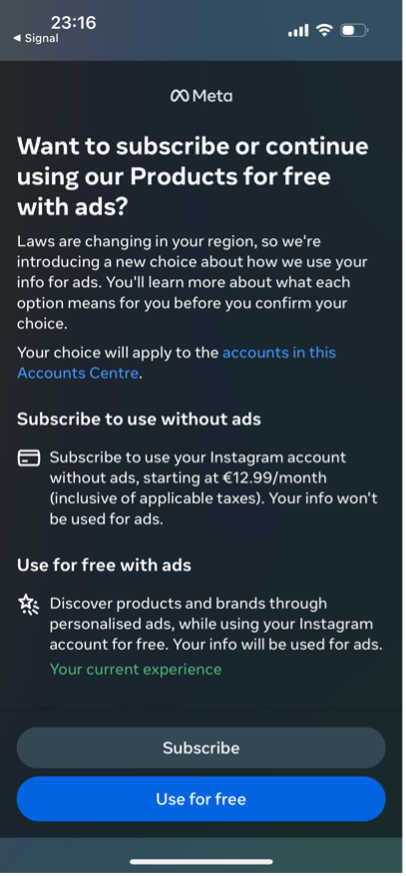 In our 2018 book, 'Everything Transaction,' we discussed this topic in the context of 'restoring the data-benefit balance'. While Meta's recent move improves this balance somewhat by offering a monetary transaction choice, it doesn't completely restore it. At best, it can be seen as a start. This is because users are presented with very limited choices: pay up, allow data usage, or quit. 
Option 1 puts a price on privacy and an enhanced user experience, and shows that everything can be bought with money. However, users must trust Meta not to misuse their data, and verifying this trust remains a challenge. 
Option 2 makes it explicit that users themselves are the commodities in this transaction. This newfound awareness turns users into actors in the exchange, which holds significant value for Meta. However, users with fewer concerns about data surveillance or with limited financial means may be tempted to choose Option 2 and continue to offer themselves as products.
Very few users are likely to choose Option 3, given the convenience of Meta's services – despite the potential benefits for collective mental well-being of discontinuing the use of such services.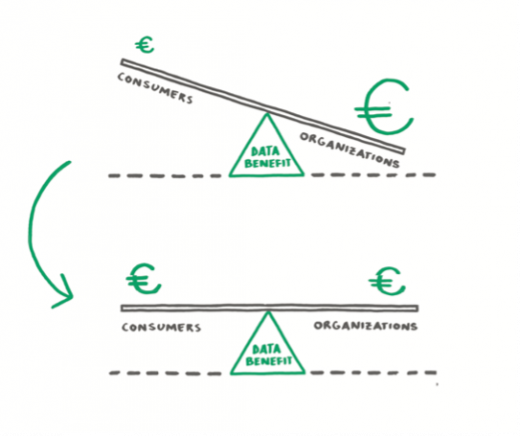 Data sovereignty is still a long way off
To further restore the data-benefit balance, Meta could provide an option for users to transfer their data to other social media services, in a similar way that people can switch between telecom providers. This would give users true data sovereignty and enable them to choose services based on price and features rather than the size of the network.
In this scenario, users could leave Meta and open an account with an alternative service while retaining access to their accumulated data. That alternative service might offer a 'free' option while providing users with a 'data dividend' for digital achievements, akin to the creator economy's revenue-sharing model.
The importance of regulation
The PSD2 regulation gave people data sovereignty over their banking data. The upcoming FIDA regulation will extend this to other financial data. And regulation is still needed to drive further change in people's data rights. In 2019, EU Commissioner Margrethe Vestager noted that we have the rights to our data, but not the means to exercise our rights. It is time for the political establishment to take action.
Download the book 'Everything Transaction' at https://www.innopay.com/en/download-our-book 
Let's get in touch
Ready to do business with the experts at INNOPAY?