World's first bank card based nationwide Public Transport solution for all modalities will be in The Netherlands
Our involvement in the launch of the Europay Mastercard Visa contactless (EMVc) card was a great reminder of the benefits of a shared perspective. EMVc has already been rolled out in public transport in various geographical regions (e.g. in London, New York, Singapore, Sydney & Chicago), but nowhere nationwide and all modalities. It gives passengers instant mobile access to transit and eliminates the need to queue for ticket machines. Providing people with the convenience to travel seamlessly with multiple operators requires nationwide adoption and interoperability. To make this happen, card issuers and public transport operators (PTOs) have engaged in a unique cross-sectoral collaboration. For such an initiative to be a success, it is crucial that all parties put their own interests aside and collaborate from a shared perspective right from the start. The common aim should be to envision and realise opportunities for synergy. In the case of EMVc, this is what is enabling both the payments industry and the transport industry to seize opportunities for transactional growth in the mobility ecosystem.
Transactional growth for everyone
In the collaborative partnership for EMVc, the PTOs and card issuers had a clear shared interest: transactional growth (i.e. completed journeys for the PTOs and card transactions for the issuers). Furthermore, for PTOs, a 'dual-market' payments platform opens up various new travel methods such as sharing services. Passengers can tap in and out between different operators using the card itself, their smartphone or wearables. In addition, EMVc has security mechanisms to cover various risks and liabilities associated with interoperability between operators. For card issuers, meanwhile, the project is an opportunity to increase their relevance to their customers and to extend contactless payments from the retail sector into the mobility context – including PTOs and car and bike-sharing services.
Leverage trust instead of competing on trust
So how could that be achieved? To realise the potential for transactional growth, we advised the card issuers and PTOs to set up a trust framework that builds upon the EMV® specifications. A trust framework or scheme consists of additional agreements on business, legal, operational and technical aspects. These agreements establish the shared interests and the required level of trust between organisations such as operators, service providers and others to facilitate transactions through the platform. The agreements cover matters such as governance, additional risks, additional liabilities, security, service availability and admission of new user groups. The trust framework is designed to attract as many user groups to the platform as possible.
Meanwhile, passengers enjoy an optimal payment experience throughout their journeys. They can link their EMVc card to a mobility account and unlock access to a wide array of services in the mobility ecosystem, varying from Netflix-inspired 'Mobility as a Service' (MaaS) subscriptions to regular public transport access. Figure 1 visualises the footprint of an EMVc-based payments platform in the ecosystem and how the EMVc card is used to access and pay for mobility services throughout the multimodal journey.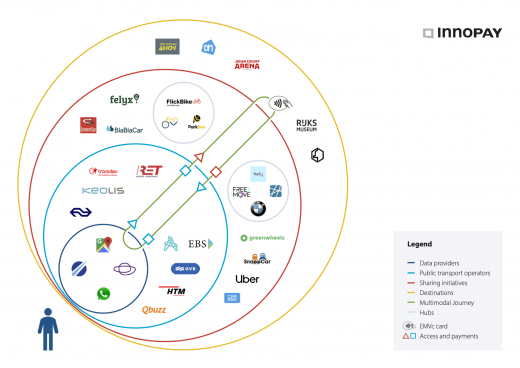 More growth opportunities based on synergy benefits 
Such a trust framework also enables card issuers and public transport operators to further leverage their collaboration in the mobility arena to realise pioneering growth beyond payments alone. The underlying trend is the shift from asset-based to usage-based mobility, which will increase the number of mobility providers in the ecosystem. This will result in more opportunities to capture value, such as by expanding in the ecosystem and making a positive socio-economic impact.
We see particular opportunities for synergy benefits in the following three areas:
Data sharing. Customer-centric data sharing is the foundation of future-proof mobility. Data sharing between providers enables more accurate journey planning, easy onboarding across apps, and journeys based on passengers' actual preferences. All this contributes to a seamless customer experience. The trust framework initiated by this collaborative partnership could evolve into a trust framework for data sharing between all providers in the mobility ecosystem.   
Geographical diversification. Further developing the interoperability between providers to expand into surrounding geographical areas is an opportunity to create transaction growth for PTOs while offering a more seamless customer experience on longer-distance journeys.
Mobility solutions. The card industry and PTOs can leverage their resources to develop joint mobility solutions for shared growth. An example of such an initiative is 'KBC Olympus', a MaaS proposition for enterprises developed by KBC Bank and Belgian public transport companies, aimed at better distributing mobility demand and reducing congestion. 
INNOPAY is involved as a strategic partner in the Dutch 'Innovation in Payments' project, within which PTOs and card issuers are collaborating to implement EMVc. Please contact us if you would like to learn more about this initiative or to discuss how we could help you.
Let's get in touch
Ready to do business with the experts at INNOPAY?