Why is now the right time to prepare for the Instant Data Economy?
Mounaim Cortet – Managing Director of INNOPAY DACH – discusses why organisations across all sectors should develop a coherent Data Strategy that will help them reap the benefits of the Instant Data Economy. Mounaim has a solid track record in supporting financial institutions and corporates in their digital transformation, specifically focusing on how to operate in open, data-driven ecosystems.
Mounaim, why is the Instant Data Economy becoming such a hot topic for organisations?
"The Data Economy is a digital ecosystem in which data is collected and exchanged by networks of parties to create value for customers. The value of the EU Data Economy is predicted to increase to EUR 829 billion by 2025, contributing to more than 5% of the overall EU GDP. Currently 2.5 quintillion bytes of data are created each day, and the amount of data will continue to increase exponentially as more people are onboarded, as the Internet of Things expands, and as the sharing economy develops.
Instant Data Exchange reflects the idea of analysing this data in real time, and creating immediate and relevant insights as quickly as possible. This concept is popular in new offerings that deliver up-to-the minute information – such as weather apps and route services – as well as those that recommend special services based on the real-time analysis of situations – such as in the insurance sector.
In recent years, the trend towards real-time information and services has become more important with the development of new technologies like the Internet of Things, cloud technology, instant messaging and push notifications. Customer expectations and behaviours are changing, and this means that real-time information and services are now expected in both B2C and B2B.
As the pace of new data creation increases, it is becoming necessary for corporates to get the most out of their data by analysing it straight away and producing immediate and relevant insights. Globally, it is estimated that better access to data will help unlock at least $3-5 trillion in global economic value."
What are the potential benefits for organisations?
Real-time decision-making based on data that explains the full context of a situation or problem can help organisations to increase efficiency, reduce costs by solving problems faster, and seize opportunities the moment they arise.
By revolutionising business models, optimising production and decision-making through automation, and enabling the development of innovative products and customised services, the data revolution can spur job creation and significantly enhance competitiveness and public service provision.
Until now, the manufacturing sector has benefitted most from the Instant Data Economy, followed by professional services, telecom, retail and banking. The scope and nature of these benefits will vary across sectors. But I believe there are many common elements which all organisations can seek to capitalise on:
Better, quicker decision-making based on combining real-time data from multiple sources
Improved insights into things like your customers' behaviour and your products' performance
Reduced risk when planning new products and services
Clearer understanding of what drives specific costs within your organisation
Improved ability to anticipate and react to changes elsewhere in your value chain (e.g. dynamic forecasting)
Improved internal processes based on automation and analysis of data from external sources
But before we can use instant data to create this new value, we need to overcome some significant challenges. And many organisations are still unprepared and may struggle to take advantage of the potential benefits."
What are the main challenges in preparing for the Instant Data Economy?
"At INNOPAY we see this as a multi-faceted challenge, so we've developed the Triple A Model to break it down into 3 connected layers.
The top layer – Applicability – is where the new value will be captured. Provided the source data is accurate and available, then it can be analysed, processed and applied to a specific use case. This is where most of the discussion is focusing at the moment. There are companies already offering solutions, but these services often rely on publicly available data. I think the real value probably lies in accessing private data from a range of sources. The question is how will organisations be able to access this type of rich data?
The problem lies in the middle and lower layers of the Triple A Model – Accessibility and Availability – where bottlenecks currently exist. Organisations need to start focusing on these two layers or we will be severely restricted in what we can achieve with data analytics technologies in the Applicability layer."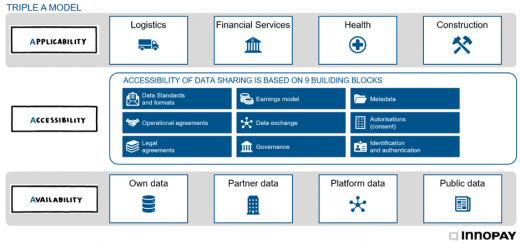 INNOPAY's triple A Model
Why are the Availability and Accessibility layers currently problematic for many organisations?
"Lots of data already exists but it's often not readily available for use internally across internal departments and teams, let alone accessible within an ecosystem involving external partners. We're all talking about the benefits of the data-driven economy, but we still need to figure out how to share data effectively and appropriately. We also need to focus on the impact on our business processes and infrastructure.
The Availability layer addresses how data is managed within an organisation. And this is a huge challenge for many companies, whose data is often locked away in legacy systems. These systems are simply not designed to make data accessible for sharing in ways which enable effective analytics. Many organisations spread data across a range of different systems so it becomes fragmented with no 'golden source'. Data is often insufficiently granular to allow valuable attributes to be separated out. So many companies will have to reinvent and reorganise their data management structure and accompanying systems and processes.
The middle layer – Accessibility – determines how available data can be shared between parties. This is also a significant challenge for many companies. Organisations and consumers are becoming increasingly aware of the value of their data, and want to tilt the 'Data Benefit Balance' back in their favour. Recent high-profile fraud cases and data leaks have also heightened people's awareness of the need for security and privacy, making companies and individuals more hesitant to give consent for sharing their data with third parties. There are a number of solutions to these headaches, and INNOPAY has done a lot of work on the concepts of 'soft infrastructures' and 'trust schemes' which support ecosystems to collaborate through a range of jointly-agreed contracts and agreements".
So what steps should organisations take to prepare themselves for the Instant Data Economy?
"I'd recommend organisations to take 3 steps towards designing their own Digital Operating Model:
Create a Data Strategy for your business
Few organisations currently have an effective Data Strategy. Companies need to think about how their data can create new value through exposure to other parties, and also what additional data they require from other sources. There are already good examples of this happening in the banking sector through APIs. But many companies still don't have a clear view on what they already have and what they still need.
Consider how your future commercial propositions will be impacted
Organisations need to think about the types of new products and services they will develop once they can access and process the new data. Also reflect on how this might impact existing products and services.
Think about the new requirements on your internal organisation
Consider how your operating model in terms of business processes, people and infrastructure will be impacted. And here we are talking about both the Availability layer (how will data be managed by your organisation?) and the Accessibility layer (what technical mechanisms will be used to share data with partners? what new agreements (trust schemes) are required? how will players within the ecosystem start to co-operate in new ways?)."
Mounaim, to conclude, what is your advice for organisations? 
"If organisations don't act now, they risk losing business, becoming less relevant, getting disintermediated and becoming more vulnerable from a risk and security perspective. So now is the time to focus on developing a strong Data Strategy which will prepare your organisation for the Instant Data Economy.
Building a future-proof Data Strategy means embedding all the key capabilities in your organisation.
It's important to focus on the value propositions – and a good strategy will help you create new value, become more competitive, and decrease operating costs. It will also make you much more resilient to new entrants who are focusing their business models on instant data.
But it's also essential to keep in mind what this means for your operating model in terms of business processes, required people skills and competencies, IT infrastructure and data management. All these components must work together to prepare your organisation to reap the benefits of an Instant Data Economy."
To discuss how you can start preparing a Data Strategy that will help your organisation to maximise the benefits of the Instant Data Economy, please get in touch
Let's get in touch
Ready to do business with the experts at INNOPAY?