INNOPAY becomes new iSHARE Implementation Partner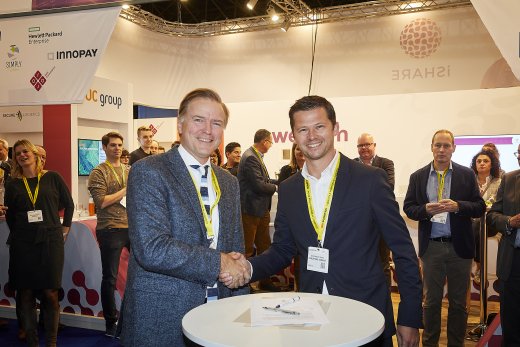 INNOPAY became the latest addition to the network of iSHARE Implementation Partners yesterday (5 November) when it signed the official partner agreement with the iSHARE Foundation. This is a logical step for the consultancy firm specialised in digital transactions, which has been involved in the development of the data-sharing scheme right from the start. From 2016 to 2019, INNOPAY worked on behalf of the Netherlands' Top Sector Logistics to facilitate the co-creation process and the initial adoption of iSHARE.
High-quality scheme
From now on, organisations that are looking for a faster, easier and more secure way of sharing data can contact INNOPAY for help with implementing the iSHARE scheme. Including INNOPAY, the network now comprises six iSHARE Implementation Partners. The other five are: ECS International, ICT Group, Rojo Consultancy, Seeburger and UC Group.
Douwe Lycklama, Founding Partner of INNOPAY, states: "We're proud of what we've achieved together with the logistics sector over the past three years: a high-quality scheme that can work for everyone and which is now starting to be used in real life. We're in no doubt about the opportunities that iSHARE offers for the logistics sector, both nationally and internationally – opportunities to optimise processes, work more efficiently and improve the competitiveness of the Dutch logistics sector – and we're keen to keep contributing to those opportunities as an iSHARE Implementation Partner."
"We're delighted that INNOPAY has joined us as an Implementation Partner," comments Gerard van der Hoeven, Chair of the iSHARE Foundation. "INNOPAY is a valuable addition to our network of partners. This move ensures that the knowledge and experience INNOPAY has gained over the past three years continues to benefit the logistics sector."
For more information on iSHARE, click here. 
Pictured: Douwe Lycklama, Founding Partner of INNOPAY, and Gerard van der Hoeven, chairman of the iSHARE Foundation.
Let's get in touch
Ready to do business with the experts at INNOPAY?