'Designing Data Spaces' or everything you ever wanted to know about data spaces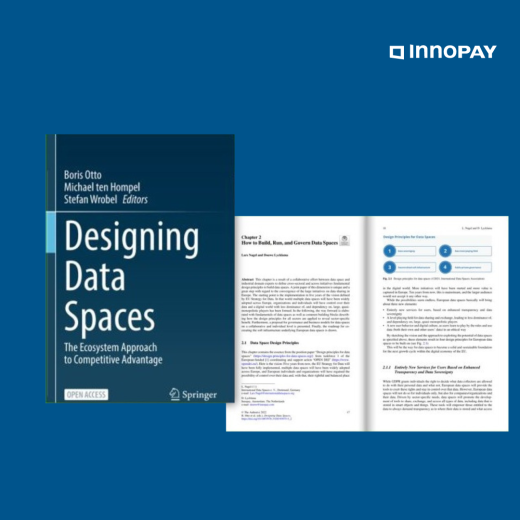 A new must-read book has just been published! 'Designing Data Spaces', co-edited by Boris Otto, Michael ten Hompel and Stefan Wrobel from Fraunhofer Institute Germany, is a thorough and detailed guide to how the principle of international data spaces should be applied in today's data economy. INNOPAY's Douwe Lycklama has contributed a chapter on how to build, run and govern data spaces. And as an extra bonus, you can access the book for free.

'Designing Data Spaces' provides a comprehensive view on data ecosystems and platform economics, from methodical planning and technological foundations to real-life implementations and applications in various industries.

The book is divided into four parts: 
'Foundations and Contexts' provides a general overview of building, running and governing data spaces and an introduction to the IDS and Gaia-X projects. 
'Data Space Technologies' details various implementation aspects of IDS and GaiaX, such as data usage control, the use of blockchain technologies, and semantic data integration and interoperability. 
'Use Cases and Data Ecosystems' presents insights into the latest progress in various application areas including agriculture, healthcare, industry, energy and mobility. 
'Solutions and Applications' offers an overview of real-life products and experiences from companies including Google, SAP, Huawei, T-Systems International, INNOPAY and many more. 
In a nutshell, the book provides industry professionals with an all-encompassing overview of the technological and economic aspects of data spaces based on the International Data Spaces Association (IDSA) and Gaia-X Association for Data and Cloud (AISBL) initiatives. By presenting existing implementations and business cases as well as an outlook on future developments, 'Designing Data Spaces' is aimed at proliferating the vision of a social data market economy based on data spaces which embrace trust and data sovereignty. 
Click here to download the book for free.
Let's get in touch
Ready to do business with the experts at INNOPAY?