'We can only lay the foundations for the future together'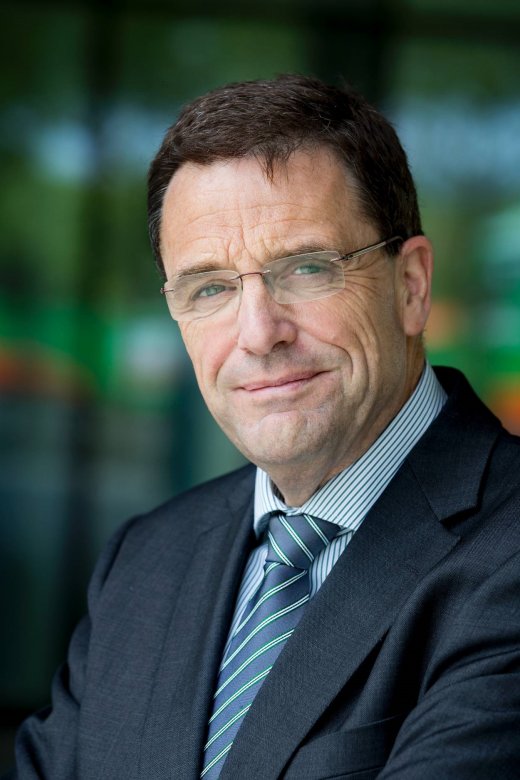 INNOPAY – together with its partner Contakt – has been involved in the further digitisation of the Dutch construction sector since the beginning of this year. A lot has been achieved in terms of digitisation in recent years, but there is still plenty of work to be done. We spoke to Richard Tieskens, chairman of Digiteam, about the needs to speed up digitisation, the role of a digital scheme in that process, and Digiteam's collaboration with INNOPAY and Contakt.
The Dutch construction sector faces several challenges. The pressure to increase construction productivity, to make existing buildings more sustainable and to participate in the energy transition is forcing more intensive collaboration within the sector. Digiteam – a sector-based initiative in conjunction with the national innovation programme for construction called 'Bouwagenda' – is responsible for further boosting digital collaboration in the industry. Around 37 organisations from all stages of the construction life cycle have already aligned themselves with Digiteam's ambitions and more than 20 projects have been identified as projects that contribute to accelerating the digitisation of the sector.
"I see it as a personal mission to work together with others to help the sector move forward. Digitisation is important for the challenges that lie ahead for the sector, and – although things are already moving in the right direction – there is a real need to work in a fundamentally different way. Every organisation in the sector is working on digitisation, but they are each in their own 'bubble'. There are lots of brilliant initiatives, but they are either shared insufficiently or carried out in isolation and they are not made scalable, so the situation is still sub-optimal. If we want to advance digitisation and really make a difference, it's important to intensify digital collaboration. And that's what we're going to do with DSGO, the digital scheme that regulates access to data, which we initiated earlier this year together with INNOPAY and Contakt."
Breakthrough in data sharing
The data that organisations in the construction sector need in order to operate more efficiently and sustainably is often already available somewhere in the chain, but utilising it usually involves a lengthy and costly process. Organisations have to reach bilateral agreements each time they want to set up a new data integration, which is both  time and money consuming. Since this is not always feasible at project level, opportunities for data sharing and economies of scale are often missed. Besides that, many data owners are reluctant to share data, either due to a lack of trust that chain partners will handle their data carefully or because of a fear of liability. They think that sharing their data means losing control over it.
The aim of the DSGO digital scheme is to achieve a breakthrough in digital collaboration and data sharing. Thanks to a clear set of agreements, organisations no longer have to repeatedly make their own agreements about access to data. This saves them a considerable amount of time and money. Moreover, DSGO safeguards the use of data; the agreements revolve around data owners maintaining control over their own data at all times.
"The idea for a digital scheme has been around for a long time already. After all, uniform agreements enable all supply chain partners – no matter which phase of the construction life cycle they are active in – to make easy and secure use of data that is already available somewhere. As a result, they are able to improve their mutual digital collaboration and work more efficiently and sustainably. However, financing the scheme turned out to be challenging, because no one benefits from it immediately – only in the long-term. That's why it is important for the government to support initiatives of this kind. At the same time, we also require commitment from sector organisations in terms of contributing in projects or making resources available so that the agreements can be developed."
"The next step now is to actually develop the agreements, and we will do that next year in co-creation with the sector itself. Together with INNOPAY and Contakt, we have made good progress this year and have already convinced a number of organisations to join us in this early phase. They are enthusiastic to contribute to the scheme, to a breakthrough in data sharing and to the next step in digitisation."
Unique knowledge and experience
Tieskens is very positive about the partnership with INNOPAY and Contakt, and believes that the combination of the two consultancies works well. "We have known Contakt for some time now. They know the construction sector through and through and have lots of valuable project management experience. We hadn't worked with INNOPAY before, but we were keen to do so due to their unique knowledge and experience in supporting the development of digital schemes, their collaborative approach and connecting entire ecosystems. We could put INNOPAY's core competencies to good use. Besides that, the two firms have very good 'chemistry' – they complement each other very well."
"In addition, I firmly believe that we'll get this job done successfully together. We're facing quite a challenge, so that feeling of 'togetherness' is important. The most crucial thing at the moment is to get commitment from the sector itself. We're working on making people realise that we can only advance as a sector if we pull together, and that digitisation goes beyond their own company or organisation. We're calling on everyone to collaborate on a future-proof construction sector with good reason, because we can only lay the foundations for the future together."
Let's get in touch
Ready to do business with the experts at INNOPAY?