No end in sight for fragmentation in streaming market?
At first glance, the streaming market for films and series seems to be a two-sided market in which a lot of INNOPAY thinking on collaboration could be applied. So could the market benefit from a data-sharing scheme to enable providers to optimise their customer service? The INNOPAY team took a deep dive into the market, and this is what they concluded.
As the streaming market has evolved over recent years, it has become increasingly fragmented. Above all, this is having a negative impact on customer. After all, depending on their personal situation, most people are only prepared to subscribe to a couple of streaming services, and three seems to be the absolute max. This leaves them feeling frustrated when content that they want to watch is only available through other services, plus intensifies their sense of satisfaction at paying their chosen service for lots of other content that they are not interested in. This development is particularly ironic, given the fact that streaming services originally seemed to solve the problem of fragmentation in the cable TV market by providing a single platform putting users in control of what they want to watch and when.
A collaborative scheme for sharing data effortlessly and securely would enable all streaming services to be provided to all customers, and could therefore provide a solution to the market fragmentation from a customer perspective. However, regardless of how the issue of fragmentation could be solved, the question remains whether there is any reason for providers to want to solve it.
In general, schemes create a solution for the collaborative domain and organisations can then build their own competitive propositions on top. In the streaming market, the common infrastructure that is required for providers to offer their services is already in place (everybody has a streaming device, payments for subscriptions are easy, onboarding can be done in just a few minutes). Therefore, there appears to be little need for an initiative focusing on this collaborative part of the streaming market.
Furthermore, although the streaming services market at first glance seems like a two-sided market, this is not necessarily the case. Today's streaming services are the end service to the customer, which puts them in the competitive domain. This is being intensified by the fact that the streaming services are moving towards producing their own content, making it less of a two-sided market and more like a regular customer/supplier relationship. As a result, it is highly unlikely that providers would be inclined to collaborate with one another within a scheme. Instead, they are increasingly working with other partners – as illustrated by Netflix's deal with telecoms provider KPN to offer its internet customers 12 months' free access – in order to strengthen their competitive position.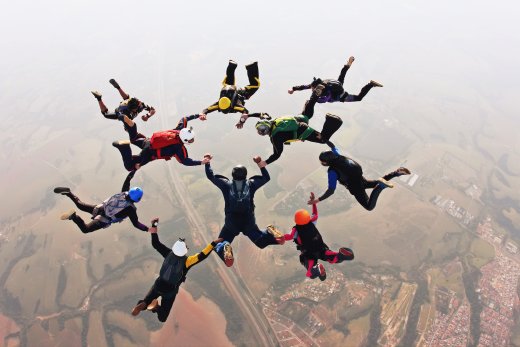 Opportunity to increase everyone's piece of the pie
Nevertheless, a scheme could present an opportunity for the streaming services market to increase everyone's piece of the pie by offering customers a better proposition. For one thing, the current market fragmentation encourages 'provider hopping' among customers, whereby they sign up for free or low-cost trial subscriptions (usually for one month each time) purely to watch the content they are specifically interested in. For service providers, this leads to loss of revenue and makes it difficult to build loyalty. In a similar vein, there are signs that the fragmentation of the streaming market is leading to renewed growth in video piracy, which is likewise costing the industry money.
Secondly, a scheme could enable the individual streaming services to securely share their own data about viewing behaviour and history, interests and preferences with other providers, thus forming the basis for broader industry-wide analytics in the interests of customers. Taking this a step further, a shift from aggregating based on content (competitive) to a single identity (i.e. the customer can log in to any service using one and the same account) and perhaps even single payment (which would then be shared among the service providers) would make life easier for customers.
This would generate much more data about the viewing behaviour of individuals and/or households, which in turn would enable the streaming services to tailor their content more effectively for their particular customers. In fact, this would bring the providers full circle: back to offering specific, targeted content that is aligned with individual customer preferences, without requiring each customer to pay for the entire offering – which is precisely the reason why people became dissatisfied with the cable TV market offering in the first place.
Despite the fact that collaboration in the streaming market offers obvious advantages for both customers and providers, it will be quite difficult to get a scheme off the ground as long as providers continue to focus on the threats – such as a weaker competitive position and lower barriers to entry for new players – rather than on the opportunities for growth and improved customer satisfaction. This probably means that the streaming market is not ready for a scheme at the moment.
However, the market dynamics are shifting all the time and there may come a time when providers adjust their strategy, either to combat loss of revenue or – on a more positive note – based on ecosystem thinking to increase everyone's share of the pie. Needless to say, the INNOPAY team will continue to monitor the developments closely. To discuss any of the issues raised here, feel free to get in touch with us.  
Let's get in touch
Ready to do business with the experts at INNOPAY?