Public transport organisations and mobility sharing initiatives all share the same ambition: getting commuters out of their private cars. How? Make end-to-end commuting as convenient as car ownership, but for less money. In practice, mobility providers can't individually satisfy these criteria since they have limited reach and availability. Providers should collaborate in ecosystems to incorporate their services with those of others and develop (better) multimodal mobility propositions. This blog provides a view on open mobility ecosystem and five key steps to organise it.
Open mobility ecosystems facilitate better travel propositions
Technology developments (e.g. APIs), regulatory changes (e.g. PSD2, GDPR) and collaborative mindsets enable digital collaboration between players in value chains. These collaborations aim to develop new business models, to innovate services and to decrease inefficiencies. Ultimately these collaborations grow into digital ecosystems. APIs play an instrumental role in ecosystems by sharing business data, functionality and user experience in a controlled fashion. First sparks of digital ecosystems are visible in the energy, agriculture and logistics industry (e.g. JoinData, NEDU, iSHARE).
Mobility would be an obvious industry to apply such an ecosystem. A digital ecosystem for mobility should integrate the services of Public Transport Operators (PTO), data providers, sharing initiatives, techs and other parties that take part in multimodal travel. For example, PTOs and sharing initiatives can integrate existing propositions to improve interoperability and provide more personalised travel options. Whereas data providers can help find solutions to better utilise vehicle capacity. A visual representation of an open mobility ecosystem is provided below where similar providers are categorised in a layer: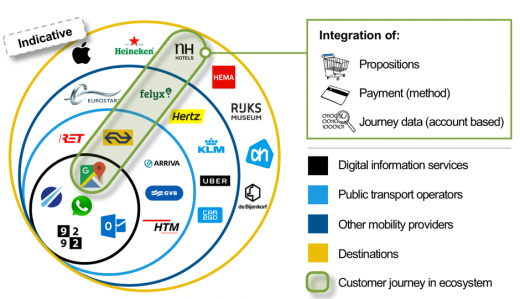 The more ecosystem players work together, the more convenience in multimodal travel propositions can be achieved. For example, integration of public transport and other mobility providers could result in Mobility as a Service (MaaS) propositions (e.g. Whim). Extending MaaS with destinations further optimises journeys for customers and provide opportunities for new service offerings (i.e. Hospitality as a Service). 
'Customer in control' is a key driver for ecosystems
In multimodal travel, it is essential to allow customers to onboard and plan their journey as quickly and as easy as possible, to compete with car ownership. INNOPAY strongly believes that an open mobility ecosystem provides the most value when customers are in control. Customers should be able to access services quickly and trigger data exchanges between ecosystem players (e.g. account information, travel preferences, travel and transaction history) to generate optimal travel options at all times. This should be done based on a verified identity of the customer and a form of 'digital consent management' [1]. Digital consent management allows customers to control who can access what personal data and specify these access rights, preferably in a centralised dashboard. This allows customers to determine from what ecosystem players they would like to receive offerings or integrate services. 
Five essential bridging steps towards open mobility ecosystem
Mobility providers are already collaborating to improve multimodal travel on themes such as payments (e.g. Dutch OV-chipkaart) and journey planning (e.g. Google Maps, CityMapper, Waze, Here WeGo). These existing collaborations could serve as foundation for an open mobility ecosystem. Based on INNOPAY's experience five essential steps are provided to further explore the implementation of an open ecosystem: 
Identify use cases. Identify relevant use cases of integrated customer journeys with real added value for customers and all players involved
Shape coalition of the willing. Shape an initial coalition of the willing around each use case to operationalise these use cases
Form ecosystem agreements. Create a set of agreements that help players to take position in the mobility ecosystem and participate. Agreements could include:

Design principles
Roles and capabilities
Required tools and standards to share data and manage consent
Governance (if desired)
Legal framework (if desired)

Pursue growth. Adding participants and layers to the ecosystem will increase user base and increase added value of use cases.
Diversify. After a few successful use cases, ecosystem participants can further explore future opportunities.
Are you a mobility provider who is interested in further exploring opportunities of an open mobility ecosystem? Please get in touch with pepijn.groen@innopay.com.
About INNOPAY: INNOPAY is a consultancy firm and specialised in digital transactions. INNOPAY is involved as strategic partner of the Dutch innovation in PTO payments program, in which PTOs work together to develop future payments and travel propositions.
---
[1] https://innopay.com/blog/customer-data-old-problems-demand-new-solution…