INNOPAY and IDSA join forces in push for data sovereignty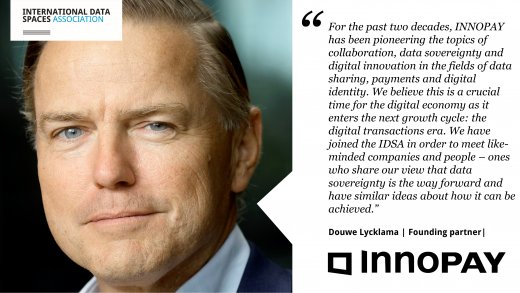 In its quest to further strengthen the focus on data sovereignty in today's digital transactions era, INNOPAY has become an official member of IDSA.
By joining forces with the International Data Spaces Association (IDSA), INNOPAY hopes to find other organisations and professionals that share its vision on the importance of data sovereignty in the data economy. INNOPAY believes that the current platform-based model of data exchange poses a severe risk to digital trust, which is the cornerstone of future economic growth in the digital transactions era. Therefore, INNOPAY is striving to highlight the importance of data sovereignty – or control over one's own data – as a design principle of the data economy as a whole. Only then will it be possible to build the necessary trust and enable the full potential of data to be unleashed, for the benefit of citizens and organisations alike.
IDSA is an international network in which businesses and research organisations are actively involved in designing a trustworthy architecture for the data economy. IDSA aims to facilitate the worldwide exchange of data between data providers and data users in business data-sharing ecosystems and in which data providers stay in control of their own data. This data sovereignty is achieved by allowing data providers to define conditions and set restrictions for the use of their data. IDSA's members include more than a hundred companies and institutions from various industries, including several Fortune 500 companies, globally active medium-sized companies, software and system houses, from 20 different countries.
"For the past two decades, INNOPAY has been pioneering the topics of collaboration, data sovereignty and digital innovation in the fields of data sharing, payments and digital identity," comments Douwe Lycklama, founding partner at INNOPAY. "We believe this is a crucial time for the digital economy as it enters the next growth cycle: the digital transactions era. We have joined the IDSA in order to meet like-minded companies and people – ones who share our view that data sovereignty is the way forward and have similar ideas about how it can be achieved."
Let's get in touch
Ready to do business with the experts at INNOPAY?