HPE showcases iSHARE as a successful digital transformation story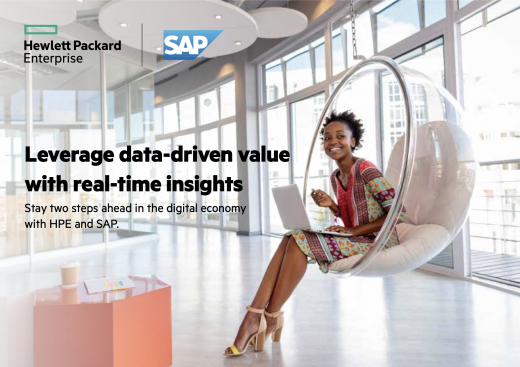 Hewlett Packard Enterprise (HPE) and SAP aim to help their customers stay not one, but two steps ahead in the digital economy. In a recent HPE publication, iSHARE was showcased as a compelling example of digital transformation success for its role in helping companies to overcome the barriers of complexity and unlock the value of data. The publication, which was focused on the data-driven IT infrastructure of the future, was circulated to customers and partners worldwide.
"The digital economy is evolving at an astounding pace. Since the last century, new, disruptive technologies have profoundly changed the business landscape. Innovations like the Internet of Things, cloud and big data are rapidly expanding the possibilities of organisations today. And at the foundation of these new technologies lies a single force: data," wrote Arie den Boer (alliance business manager, Hewlett Packard Enterprise) and Marc de Nies (alliance manager, SAP Nederland BV) in the publication. "In the data-driven economy of the 21st century, companies need to unlock the value of data exactly when and where they need it. But this new vision also holds challenges. Organisations today struggle with the barriers of complexity and the inability to leverage value trapped inside their data." iSHARE was one of five cases highlighted as examples of how a commitment to innovation can help achieve a successful transformation into an intelligent enterprise.
Data as the lubricant of the network economy
Douwe Lycklama, founding partner of INNOPAY and driving force behind iSHARE, contributed to the article, which was titled 'Sharing data based on trust'. The article outlined the evolution of the iSHARE initiative since its initial launch as a public-private partnership for the Dutch transport and logistics sector in 2016. This has resulted in the development of a uniform set of agreements for identification, authentication and authorisation which has now made data sharing within the logistics industry easier, safer and more controlled. "Data is the new oil. Or better still, the lubricant of the network economy. Despite the benefits of sharing information, many organisations are reluctant to send their data to parties they do not know or barely know. How can they be sure that a party is reliable? And how can they retain control of the data to be shared?" stated the article. "With iSHARE, organisations keep control of their data at all times, allowing them to share data with confidence."
Earning money with data
SAP is keen to play an important role in the adoption of iSHARE, according to the article. Rojo Consultancy has developed an iSHARE adapter for SAP's state-of-the-art API management platform. This enables companies to make their own SAP environment suitable for using iSHARE for data sharing, without any drastic adaptations to existing systems and connections being necessary. Faster and more accurate availability of data helps companies to operate more efficiently, respond more quickly to events and create new revenue models, allowing them to make money from the data they share. This echoes INNOPAY's own belief in the importance of data sovereignty – or 'giving people control over their own data' – in rebuilding the trust of businesses and consumers in how their data is handled. Only then will companies be able to tap into the full value of data as we move into the next phase of internet development: 'the transactional internet'.
Future outlook
HPE has been working intensively with iSHARE for over a year. In conjunction with iSHARE Implementation Partner Rojo Consultancy, it is currently exploring the possibility of a specific iSHARE accelerator for its complete 'blockchain-in-a-box' solution, for example. iSHARE is now starting to take hold in the Netherlands, where the government has explicitly cited it as an example in its vision of data sharing between companies. However, the network economy is a global economy and there is growing interest in data sharing at a European and even worldwide level. Therefore, INNOPAY is now actively focusing on expanding iSHARE beyond industry borders – such as into the mobility sector – and also beyond geographical ones.
Let's get in touch
Ready to do business with the experts at INNOPAY?