The future of our financial system: threats and opportunities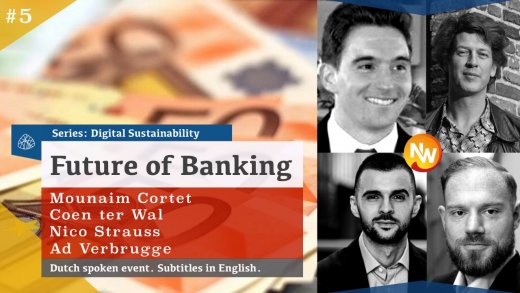 Staying relevant for the future is one of the most important challenges facing banks today. Thankfully, they already have a number of things in their favour. If they can succeed in taking a sustainable approach to their customers' data, banks can further build on the trust that those customers have already placed in them. That is one of the findings from the ongoing research into digital sustainability conducted by De Nieuwe Wereld and consultancy firm INNOPAY. In a special broadcast that has been uploaded to De Nieuwe Wereld's YouTube channel today, journalist and philosopher Ad Verbrugge discusses this topic with a number of experts.
The featured guests in this episode are Nico Strauss (Tribe Lead B2B Services at Rabobank), Coen ter Wal (Policy Advisor at De Nederlandsche Bank) and Mounaim Cortet (Senior Manager at INNOPAY), who all share their views on the future of banks. What is changing and why, what will be the impact on the service offering, and which role can banks assume in the new data economy?
This episode on the changing role of banks is part of a series of broadcasts organised by De Nieuwe Wereld and INNOPAY on the topic of digital sustainability.
Watch the broadcast on 'The future of our financial system: threats and opportunities'.
Let's get in touch
Ready to do business with the experts at INNOPAY?