European Data Strategy - What's happening and why should you care?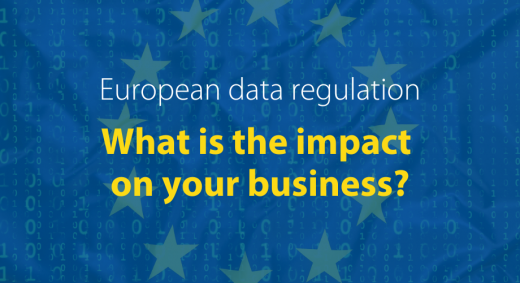 The European Data Strategy is aimed at making the European Union (EU) a leader in a data-driven world. It will create a single market for data, allowing it to flow freely between member states and across sectors for the benefit of business, research and public administration. This blog outlines the upcoming legislation and explains why we expect the European Data Strategy to have a strong positive impact on companies and organisations.
In a data landscape that is currently dominated by the major US and Chinese platforms, the European Commission is keen to offer its citizens an alternative that is in line with European values of transparency, trust and control. This has resulted in the European Data Strategy, which focuses on putting people first in developing technology, and defending and promoting European values and rights in the digital world.
Additionally, the European Commission has recognised that, in today's digital era, data is an essential resource for economic growth, competitiveness, innovation, job creation and societal progress in general. When data is hoarded, its value remains limited. To unleash the full value, it is necessary to ensure that more data becomes available for use in the economy and in society. The key to this lies in putting companies and individuals in control of the data they generate ('data sovereignty') and in giving them a fair share of the rewards (the 'data-benefit balance'). The European Data Strategy therefore includes a focus on providing data sovereignty and restoring the data-benefit balance.
New approach to sharing data
The European Commission regards European data spaces as instrumental to the new approach. As trust-based data ecosystems, data spaces enable participants – including data providers, users and intermediaries – to share data in a transparent, secure and seamless way, while retaining full control over their own data.
What's happening?
Various legislation is currently being developed to execute the European Data Strategy, which was drafted in 2020. The European Commission has so far issued five separate pieces of legislation, each tackling different aspects of the data strategy (see the table below). Three of them are already in force and will in some cases become applicable in the course of this year. The Data Act and the Artificial Intelligence Act are both still in the proposal phase.
Legislation
Goal
Impact
Data Governance Act (DGA)
Aims to make more data available by regulating the re-use of publicly-held/protected data. This is achieved by boosting data sharing through the regulation of novel data intermediaries and by encouraging the sharing of data for altruistic purposes. 
This legislation offers a framework for systematic data sharing practices in order to facilitate data sharing and the emerging data spaces across the European market. The act affects public-sector bodies and data intermediary services, as well as companies wanting to make use of the data shared by these bodies and services. Furthermore, it impacts non-profit organisations using data for the public good, e.g. scientific research. 
The Digital Markets Act and the Digital Service Act together comprise a 'digital service package' to address the need to regulate the current digital space.
Digital Markets Act (DMA)
Some large online platforms act as 'gatekeepers' in digital markets. The Digital Markets Act aims to ensure that these platforms behave in a fair way online. 
This act makes large online platforms responsible for their actions, shifting a sense of liability back to these gatekeepers. It creates a legal basis to ensure that network effects cannot be leveraged to create scenarios that go against a fair and humanistic data economy, as well as restoring the data-benefit balance.
Digital Services Act (DSA)
A common set of rules on intermediaries' obligations and accountability across the single market to open new opportunities to provide digital services across borders, while ensuring a high level of protection to all users, no matter where they live in the EU. 
What is illegal offline should also be illegal online. This act provides transparency and improves safety and the protection of fundamental rights online. Enhanced cooperation between member states and the EU-level governance will improve enforcement as well as helping to break down cross-border silos. 
Data Act (DA)
The Data Act ensures fairness in the digital environment by stimulating a competitive data market in which open opportunities for data-driven innovations make data more accessible for all. It will lead to new, innovative services and more competitive prices for after-market services and repairs of connected devices.
Consumers and companies will gain more control over who can access their data, why and on what terms. The obligations for manufacturers of connected devices will contribute to greater data sovereignty since users of IoT devices will have more control over the data they generate.  In addition to this, the act also touches upon regulations concerning B2G data sharing as well as unfair contracts which involve SMEs.
Artificial Intelligence Act (AIA)
Aims to address risks of specific uses of AI, categorising them into four different levels: unacceptable risk, high risk, limited risk, and minimal risk. The AIA will ensure that Europeans can trust the AI they are using.
This act creates a framework to mitigate safety risks and citizens' fundamental rights, thus creating a more humanistic approach to AI. For providers of AI, it will create legal certainty and remove obstacles to the cross-border provision of AI-related services and products.  
Why should you care?
Many businesses have so far been reluctant to fully buy into the idea of investing in the proper infrastructure to support transparent, secure and seamless data sharing,  whether because they fail to understand the benefits or simply don't know where to start. However, it is clear that the EU data landscape is now undergoing a rapid paradigm shift. The upcoming European legislation means that data sovereignty and a fair data benefit balance will be backed by European law. To some extent, businesses and organisations will be 'forced' to contribute to ensuring an innovative and fair digital marketplace in which data sharing opportunities are maximised. The age of data hoarding is over. What matters now is how your organisation reacts to this.
Beyond compliance
At INNOPAY, we see some parallels with what happened when new data sharing laws were introduced in the financial sector (PSD2). What we noticed then was that our most successful clients focused not so much on merely complying with the new regulations, but rather on the opportunities. Instead of doing the bare minimum to stay on the right side of the law, they dared to take a giant leap towards new and innovative businesses models.
So which opportunities are associated with the new EU data legislation? Improved transparency and portability of data based on data sovereignty builds trust between businesses and their customers. And ultimately, higher trust leads to lower transaction costs that occur from data sharing. This enables organisations to focus on the value of data sharing, exploring new possibilities so that data use becomes the driving force behind innovation.
Therefore, to thrive in the foreseeable future, we advise you to start taking a proactive rather than reactive approach towards setting up the right internal infrastructure to facilitate efficient data sharing. This will give you a competitive edge and also provide the essential basis for growing your business in the years to come.
If you would like to discuss the opportunities that the European Data Strategy and the associated legislation offers your organisation, get in touch with us.
Let's get in touch
Ready to do business with the experts at INNOPAY?