Digitising complex onboarding processes: Who will be leading in getting it right?
This article was first published in the Web Fraud Prevention, Identity Verification & Authentication Guide 2018/2019 – 7th edition published by The Paypers.
In the past year, customer onboarding processes for simple financial products have become much more convenient. The INNOPAY Onboarding Benchmark (2018) shows that almost all Dutch banks now have a customer friendly, digital onboarding process for opening a payment account, inspired by the challengers like Revolut, N26, and Monzo offer across Europe. Thinking about how much the market has changed in the past year, it is only a matter of time before onboarding of more complex products will be digitised as well. So the question is: who will be leading in getting it right, banks or fintech?
For more complex products the onboarding process is still very complex and cumbersome, as non-digital steps are involved. Complex products have stricter regulatory and risk requirements – and with AMLD4 set into national law in 2018 and AMLD5 already coming up, no leniency is expected any time soon. Regulation is often seen as an impediment to customer facing innovation and perceived as a trade-off for user experience. At INNOPAY we see this differently. Existing technologies can both enhance the customer experience and improve the security of the onboarding process.
For banks, it is time to approach onboarding from this perspective. First, because consumers expect a fast and fully digital experience. In a commoditised business-like transactions this is becoming the differentiating experience. Second, because compliance cost for both implementation and accuracy will rise if manual operations are maintained. People checking documents and re-entering data are both expensive as well as error prone.
It is expected that digital challengers will change the onboarding landscape for complex products in the same way they did for the "simple" products. However, established players still manage to keep challengers at length, as they have the advantage of a large and typically loyal customer. But for how long? Let's talk about what is needed to keep it that way.
1. From risk at the product level, to risk at the customer level
Obviously, not all customers are the same and therefore the risk profile differs per customer. Banks, however, are used to determine the risk involved at product level measuring every customer against the same stick. The onboarding process for complex products has become unnecessarily difficult for most customers, having a negative impact on the user experience and conversion ratios. Furthermore, the process forces banks to put the same effort in the low as well as the higher customer risk profiles in terms of data gathering, file creation and monitoring. A personalised process can save time and cost for both the customer and the bank.
2. Modular onboarding building blocks
Onboarding processes preferably cater for a variety of contexts, as explained above. Modular building blocks form the basis for processes that serve different products, customers and channels. The onboarding process can be designed with different sets of building blocks, which might vary given the specific relevant context. The required level of compliance and the risk involved can be used to determine which building blocks apply for a specific situation.
Within the different building blocks, new technologies can and should be used to add both security and convenience for the customer and bank. Innovative technologies are often perceived as risky due to lack of experience and best practices. Fortunately, the European Supervisory Authorities (ESAs) are helping out. They published a guideline with questions that help banks assess if an innovative solution is fit for purpose. In short, ESA's guidance determines not if, but how new technology can be used to optimise a building block.
3. Start small with the end in mind
So, how to design and implement a more personalised and modular process, using technology in a controlled manner, as described by the ESAs? Improving the onboarding process is quite complex as it touches upon so many systems and departments. A good start is to describe the ideal process. After setting the end goal, the process should be split up in building blocks that can be optimised separately. This enables banks to focus on operational effort per building block, rather than having to change everything at once.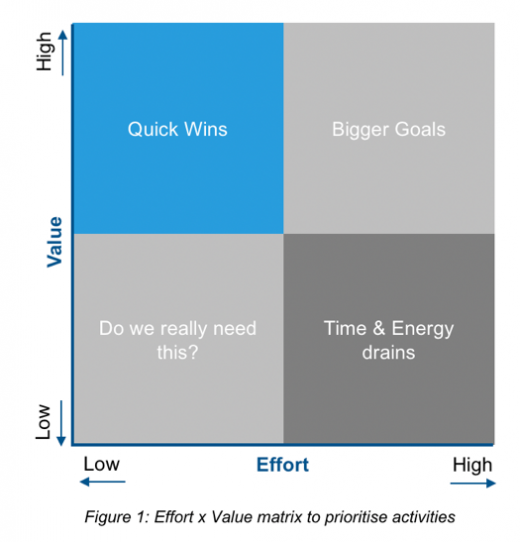 To prioritise initiatives, the simple yet effective "Effort x Value matrix" can be used. The focus should be on the Quick Wins. "Quick Wins" are improvements that require relatively little implementation effort and have a big impact on the value created. Examples are improvements in user experience like automated document read and reduced number of required data fields. Not only will the customer experience improve as straight-through processing ratios will increase, but also data quality will improve, enabling banks to enhance decision making on how to best monitor customers going forward. 
The Quick Wins can only be derived from picturing the "Bigger Goals". Working incrementally will lead to quicker results, a steeper learning curve, easier buy-in of internal stakeholders, and most importantly, it shows the customer you are taking them seriously by continuously improving the journey.
To conclude, a step by step approach, using new available technologies in a modular way, can help financial institutions to digitise more complex products, make processes more secure, and most important, keep their customers satisfied and loyal in return. So maybe this time the banks will lead the way!
Let's get in touch
Ready to do business with the experts at INNOPAY?