The Digital Markets Act: opening the gates to a level playing field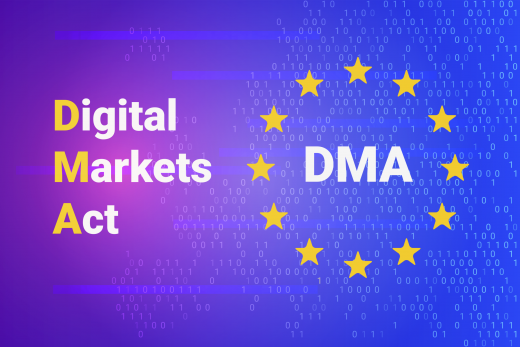 The 'big tech' giants currently hold immense power over the market, but change is just around the corner thanks to the upcoming Digital Markets Act (DMA). This legislation promises to level the playing field and usher in a new era of fair competition for service providers. One significant aspect is the obligation for big tech companies, which the DMA refers to as 'gatekeepers', to make all relevant platform data available to users and/or their service providers. This will open up possibilities for service providers to develop new value propositions. In this blog, we outline the basics and discuss opportunities and early-phase hurdles so that you can start preparing for the DMA now and get a head start on your competition.
By capturing the value of platform economics, big techs have gained too much influence in the European data economy
Over the last decade, big tech companies have taken a firm hold on our lives. Our everyday behaviour is closely monitored and influenced through the various devices and apps that we use. But besides consumers, businesses are also increasingly dependent on big-tech platform infrastructure to connect with their customers (e.g. marketing/advertising on Facebook/Google, sales via Amazon, communication/support channels such as WhatsApp). All these online interactions lead to an increase in digital transaction volume, and subsequently the creation of data. As these transactions take place on big tech infrastructure, however, the data and related insights are only partially made available to the users and businesses involved. Meanwhile, the big tech companies retain a full overview of all data and insights across all users and businesses. 
The Digital Markets Act has been created by Europe as an effort to combat unfair competition dynamics in the European data economy
Numerous anti-competition investigations and lawsuits in recent years indicate that big tech companies are using the data on their platforms and their dominant positions in the digital space to unfairly compete with other businesses (e.g. the Apple App Store purchasing system, Amazon competing on its own platform, Google advertising services). Competition regulators have called for a unified approach to deal with these unfair competition dynamics instead of fighting the same battles in each Member State. In 2020, the European Commission released its 'Strategy for Data', proposing a set of legislative acts aimed at transforming the European data economy. One of these acts is the 'Regulation on contestable and fair markets in the digital sector', or the 'Digital Markets Act' (DMA) for short. The DMA has been specifically developed to combat problems such as those mentioned above by creating rules for dominant big tech companies to ensure a more level playing field for other service providers.
In a nutshell: what is the Digital Markets Act?
1. Goal of the DMA: fix network effects
The DMA aims to fix the current situation in which only big techs fully benefit from the network effects that occur due to the nature of digital platform markets, since this creates unfair advantages for big techs over other service providers. To this end, the DMA consists of rules and obligations specifically for dominant big tech companies.
2. Timelines: the DMA officially entered into force on 1 November 2022 and has a phased implementation timeline:
The DMA starts applying in May 2023, initiating the formal designation process for deciding which big tech companies will fall under the DMA obligations. The obligations will start applying for big techs in March 2024 at the earliest, while some very specific interoperability requirements have implementation timelines of 1-4 years.
3. Designated big tech companies are called 'gatekeepers' under the DMA, and are defined according to the following criteria:
They offer a core platform service in at least three Member States. These services include online search engines such as Google search and online intermediary services such as Amazon (see Table 1).
They act as an important gateway for business users to reach end users, i.e. the company has achieved a turnover of EUR 7.5 billion in the past three years, or its average market capitalisation or its equivalent fair market value was least EUR 75 billion in the last financial year.
They have a significant and ongoing impact on the internal market, which is measured in quantitative criteria (45 million active monthly end users and 10,000 business users for the last three consecutive financial years).
In addition to the quantitative criteria above, the DMA also allows the European Commission to interpret the parts shown in bold as qualitative criteria. This serves as a mechanism for targeting companies with comparable market dominance, but which fall short of the quantitative requirements (e.g. highly dominant companies only operating in few Member States and not reaching 45 million monthly users).
CORE PLATFORM SERVICE

EXPLANATION (simplified definitions)

EXAMPLES (illustrative)

Online intermediation services

An online platform/service which allow business users to offer goods or services to customers at the request of the user, facilitating the initiation of transactions

Amazon, Ebay, Airbnb

Online search engines

A digital service that allows users to input queries in order to perform searches of all websites and returns results

Google, Bing, Yahoo

Online social networking services

A platform that enables end users to connect and communicate with each other, share content and discover other users and content across multiple devices

Instagram, Facebook, LinkedIn

Video-sharing platform services

A media service provider enabling the distribution of audiovisual media online

Youtube, Vimeo, TikTok

Number-independent interpersonal communications services

A messaging service that does not connect to publicly assigned numbers

Whatsapp, Facebook Messenger, Instagram Messenger

Operating systems

System software that controls the basic functions of hardware or software and enables software to run on it

Windows, iOS, Android

Web browsers

Software application that enables end users to access and interact with web content hosted on servers that are connected to networks such as the internet

Google Chrome, Safari, Firefox

Virtual assistants

Software that can process demands, tasks or requests, and based on those provides access to other services or controls connected physical devices

Alexa, Siri, Google assistant

Cloud computing services

A digital service that enables access to a scalable and elastic pool of shareable computing resources

Google Cloud Platform, Amazon Web Services, Microsoft Azure

Online advertising services
(not stand-alone, only applies to businesses that provide one or more other platform service)

Services allowing businesses to advertise their business, products or services online, via various core platform services

Google Ads, Facebook Ads
Table 1: Core platform services as defined by the DMA (examples are illustrative and not specific 'gatekeepers')
4. Gatekeepers are subject to data sharing regulations and are thus required to provide access to all data in the context of their core platform service(s)
Under the DMA, gatekeepers are subjected to specific obligations in the field of data (sharing) regulations, preference systems, advertisement policies and interoperability of communication services. Not complying with these obligations can lead to fines of up to 10% of a gatekeeper's global annual turnover, while repeated offences can incur a penalty of up to 20%.
Regarding data sharing regulations, gatekeepers are required to provide consumers and businesses (or authorised third parties on their behalf) access to all data that is provided or generated in the context of using core platform services. This access must be granted on request and free of charge. In the context of businesses, it must also be effective, high-quality, continuous and real-time access. The data must include both aggregated and non-aggregated data, and data generated by the end users engaging with the products and services of a businesses.
Improved data availability creates new opportunities for service providers
Getting access to platform data that was previously withheld should allow service providers to create new meaningful services for their end users. Examples of new value propositions include:
E-commerce platforms/online shopping cart providers could offer modules that enable web-shop owners to easily request data from gatekeepers where they also have a presence. This could help web-shop owners with product catalogue management, while also generating extra data (anonymised, if necessary) for the e-commerce platform provider.
Banks could request data on behalf of a large set of SMEs to better calibrate their lending risk management, resulting in providing better loans for those SMEs.
Data integration providing a data-agnostic service that manages connectivity with gatekeepers and converts/labels data to output consistent datasets through a single interface.
Early implementation phase of DMA still poses challenges that need to be overcome to capture value
To outrun your competitors you should ideally start developing new services as soon as possible, but the fact that the DMA is still in its early implementation phase presents several complexities (Table 2).
| DATA SOURCES | DATA SCOPE | ACCESSIBILITY INTERFACE | DATA ANALYTICS |
| --- | --- | --- | --- |
| Companies must be formally designated as gatekeepers to fall under DMA data sharing obligations. This process will take time and, while some big tech companies are clear targets, this means that it is currently still uncertain which sources can be queried by service providers | The vagueness of "Data provided or generated by the use of a core platform service, and (non)aggregated data" means that it is not yet clear which specific data will become available. Service providers need to wait for gatekeepers to clarify precisely which datasets they will make available | The mechanism through which data access is provided to end users is still unsure. Additionally, it remains to be seen which corporate digital identity requirements are put in place to demonstrate that a service provider is authorised to request data on behalf of end users | Datasets may significantly differ in structure and form, especially when data is requested from multiple gatekeepers. Performing analytics of such datasets might require currently unforeseen data analytics capabilities that will be crucial for service development |
Table 2: Early-phase data sharing challenges
While the data sharing complexities indicate various barriers to product development, service providers can already take some steps towards developing new services. For example:
Google, Amazon, Facebook, Apple, Microsoft (GAFAM) are the key big tech companies the European Commission had in mind when drafting the DMA, so it is safe to assume that these companies will be designated gatekeepers and serve as the baseline for available data sources.
Take a look at the data and insights that premium marketing analytics tools are capable of aggregating for web and application usage, and assume that gatekeepers will be capable of delivering a similar set of data at the very least.
Since the accessibility interface between the service provider and data source has very limited relevance for the value proposition that is delivered to end users, focus on the value proposition first before building a production-grade system.
Assume that datasets will differ across gatekeepers. Working on aggregation and conversion services can actually be a key value driver for end users.
It's time to start developing your proposition and capturing the value
It will still take another year or two until the DMA becomes fully applicable. Service providers should make use of this time to experiment with products and services based on the data potential that the DMA unlocks. This includes exploring data opportunities, developing propositions, prototyping and running pilots/tests with dummy data. There is a huge first-mover advantage, and your competitors might have already started.
Are you keen to learn more about the DMA or INNOPAY's approach to product development? Reach out to discuss potential collaboration with INNOPAY's experts in digital transactions.
Let's get in touch
Ready to do business with the experts at INNOPAY?