It's all about trust
Everything Transaction
Technology has dramatically changed how we live, how we share information and how we do business. And digital transformation is accelerating.
Organizations increasingly use technology to engage with clients, partners and stakeholders. Through continuous conversation, co-creation and two-way value exchange, organisations create new strategic advantages. Every interaction is becoming a transaction as new kinds of value - such as personal data, (access) rights, obligations, attention and reputation - form the basis of new business models.
We believe that trust is the #1 enabler of these new digital transactions, just like with payments and identity transactions. Innovative propositions will embed new forms of trust, in order to create new value for customers
The 'lack of trust' causes risks in the transactional environment. Organisations have difficulties with managing data and customers face more privacy concerns, because more data is widely spread over internet. We see an increasing number of security breaches and each breach has more impact on existing trust. And as trust is built with transparancy and availability information (data), we need to continue to protect data in order to safeguard trust.
Without the right ecosystem to collaborate, protect and share data, organisations are faced with increasing risks. We help organisations to realise their full potential in the new era where every interaction is a digital transaction and we help to orchestrate trust and mitigate unwanted risks.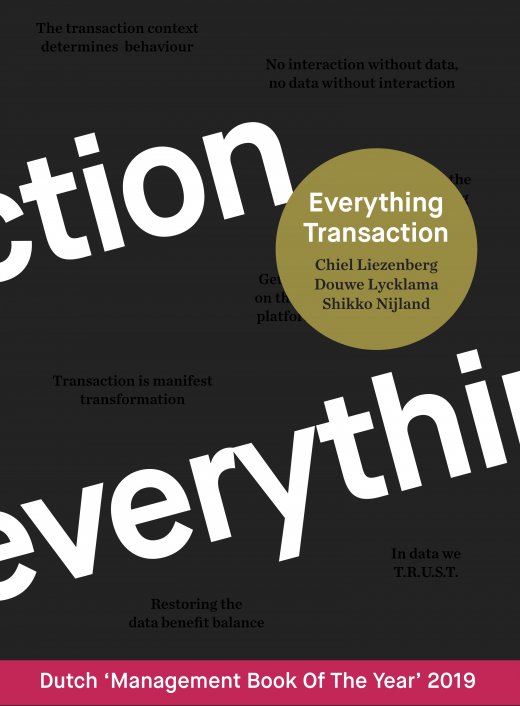 Management Book Of The Year 
Read about data, trust and the unprecedented opportunities of the transaction internet in our book 'Everything Transaction'. For sale in bookstores. As of October 15 2019 also in available in English.
Let's get in touch
Ready to do business with the experts at INNOPAY?