Thank you to Queen Máxima for opening Amsterdam FinTech Week 2021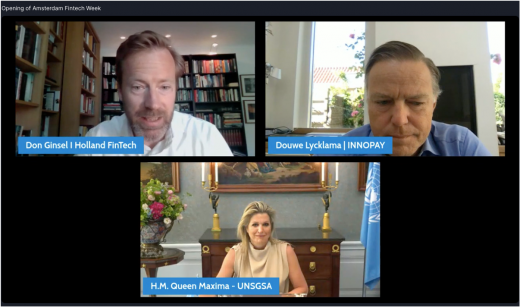 Her Majesty Queen Máxima of the Netherlands officially opened Amsterdam FinTech Week (XFW) 2021 with a virtual speech on Monday 07 June.
XFW is an initiative of Holland FinTech which promotes discussion and exploration of how financial services can be made more accessible, understandable and impactful. The Dutch fintech event annually attracts a wide range of stakeholders and key players in the European ecosystem of digital finance.
In her speech, Queen Máxima acknowledged how technical innovations can contribute to improved access to digital financial services, particularly for disadvantaged groups such as women, small entrepreneurs, farmers and low income earners worldwide. She discussed how people can improve their financial health through access to digital savings accounts, payment options and loans.
Queen Máxima also discussed how fintech innovations can contribute to better financing opportunities for SMEs in order to stimulate sustainable development and growth. Turning to the impact of the corona pandemic on vulnerable people in Dutch society, she proposed that fintech can contribute to promoting their financial resilience.
Don Ginsel (founder of Holland FinTech) and INNOPAY's Douwe Lycklama (president of the Board of Holland Fintech) also spoke at the opening ceremony. INNOPAY will be present with several speakers and use cases during the event which concludes on Friday 11 June.
Full details can be found at: https://xfw.amsterdam/
Let's get in touch
Ready to do business with the experts at INNOPAY?