Teamwork makes the dream work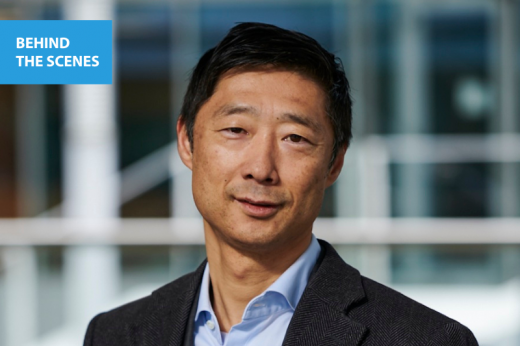 In this 'Behind the scenes' series, we introduce to you the people behind our organisation. This month, we proudly present Shikko Nijland, our CEO and Managing Partner.
Before joining INNOPAY just over a decade ago, Shikko was a partner at Accenture, where he played a key role in significantly growing the strategy consulting practice in the Netherlands. Alongside his work for clients, he co-authored the book 'Everything Transaction', which was awarded the title Netherlands' Management Book of the Year in 2019. Shikko holds a master's in business administration from Rotterdam School of Management at Erasmus University Rotterdam and post-graduate CFM/CMA qualifications. He is married with two children and lives in Amsterdam IJburg, not far from the INNOPAY offices.
INNOPAY has such a strong focus on working together that you have even given it a name: 'Collaboration by INNOPAY'. Why is this so important to you?
I am a firm believer in collaboration as the only way to create value and generate growth. To achieve success, you need everyone to pull together, particularly during times of change – and things are certainly moving ever-faster in this age of digital transformation. It is often assumed that digital transformation is about technology, but it isn't – it's about transforming the way you work, from the inside out. It's about reinventing your whole business, your portfolio, your processes and your culture. Therefore, digital transformation can't be siloed and allocated to individual teams; it requires a holistic, interdisciplinary approach. 'Teamwork makes the dream work,' as the saying goes! And in our industries often you also need to work with other parties – perhaps even your competitors – or outside of your industry. That's why we developed the 'Collaboration by INNOPAY' approach. It is our own proven co-creation process which generates opportunities and makes cooperation seamless, secure and attractive for not just some, but all parties involved.
How would you describe the INNOPAY culture?
If we truly want to facilitate collaboration for our customers, we have to practice what we preach. Therefore, collaboration is strongly anchored in our own company culture. You won't find silo-based thinking within INNOPAY. Our people achieve the best results by working together internally. This also enables them to get the best out of themselves, and that's important for us because – despite all the technological advancements and innovative IT solutions – data sharing is in our business of digital transactions ultimately about connecting people. That starts with ensuring that our own people are happy and motivated. Therefore, we have a flat hierarchy and an open culture in which everyone works very hard, but there's plenty of time for fun too. We also give our consultants maximum freedom to pursue new opportunities and work together with customers to co-create innovative solutions to today's and tomorrow's challenges. They thrive on making meaningful contributions to complex projects in which they realise value for individual organisations and also for society as a whole. Living our values has enabled INNOPAY to get where we are today, and it's also what forms a rock-solid foundation for our future growth.
It's nearly Christmas, which means we're approaching the end of another year. Looking back, what have been the proudest achievements in 2022?
I am proud of many achievements, large and small, but first and foremost I am proud of how well the INNOPAY team coped with the whole Covid period. I was particularly pleased to see how the team members pulled together to help each other through what was a very difficult time for some people. Needless to say, I am delighted that we're now back to 'normal' and undeterred in our enthusiasm. In fact, we have won a number of major projects this year and we have many more in the pipeline. And last but not least, I'm proud of the recent launch of the German version of our award-winning management book, which has been translated as 'Alles Transaktion'. The official launch during the Payments & Banking Association's TRX22 event in Frankfurt was attended by hundreds of professionals from the payments and banking industry, which was a very encouraging start.
What are your goals for 2023?
We are strongly committed to continued growth and strengthening our brand position as a thought leader across all three of our domains – Data Sharing, Digital Identity and Payments - over the coming year and beyond. The introduction of 'Alles Transaktion' is a not-so-subtle hint about one of our main short-term goals: to further intensify our growth in the DACH region. We see many opportunities in the payments industry there, especially in relation to our Open Finance propositions supporting financial services providers with their business and operating model transformation. In fact, we expect Open Finance initiatives to rapidly accelerate all around the world.  Besides that, we are keen to seize new opportunities in our other domains of data sharing and digital identity. To facilitate this growth, we will of course continue to build and expand our strong and capable team in which our employees feel valued and supported, so that they can continue helping and inspiring our customers and partners.
Where do you see INNOPAY in 2030?
As we find ourselves in the next phase of the internet, in which everything is a transaction, people are becoming increasingly aware that their data has value. Therefore, they are starting to expect to receive a share of that value. This doesn't always have to be in monetary terms, it can also take the shape of better value-adding services, but it is driving a shift in the 'data benefit balance'. Fast-forward to the end of this decade, and companies and organisations that fail to integrate the concept of data sovereignty – i.e. empowering people and organisations to keep control over their own data – into their business models will run the risk of losing their relevance and therefore their competitive position in the data value chain or, even worse, their right to exist. Open Finance holds the key for banks and other financial service providers to keep pace with this development. Using open APIs, they can leverage their financial services infrastructure and make customer data available – with the customer's consent, of course – to other parties as the basis for new and customer centric financial services embedded at the point of need. This requires them to adopt a collaborative mindset but, in my opinion, it is the only way for them to be able to keep on innovating and growing. We are already seeing signs that some front-running companies are responding to this by developing new data-sovereign products and services in collaboration with carefully curated strategic partners and this trend will gain momentum over the coming years. Besides that, we anticipate some very interesting developments in the area of digital identity now that the EU has introduced plans for a European Digital Identity Wallet. It remains to be seen how this will be translated into national solutions over the coming years. But by 2030, I expect the various wallets to be up and running and they will no doubt open up countless opportunities for new – and currently unimaginable – digital products and services that help to further improve people's lives in all kinds of ways. This is a very exciting time for INNOPAY because we are well positioned to help shape these developments, while ensuring that data sovereignty is safeguarded within any future solutions. As we continue to move forward in today's era of the transactional internet, we will of course remain on hand to advise and guide customers as we all work to create a more sustainable digital future.
And lastly, can you tell us something people might be surprised to learn about you?
Well, I am actually a DJ in my spare time, under the pseudonym Glamourboyz (www.mixcloud.com/glamourboyz). I am specialised in melodic techno, trance and house music. I host weekly livestreams every Friday and Saturday. In fact, I was recently asked to perform at the renowned Burning Man festival in the US for a whole week, which was a huge honour and a unique experience, of course. I found it strangely liberating to go 'off grid' for a few days and enjoy complete data privacy. The festival takes place in the middle of the desert with no mobile and internet reception, there are no shops and no money is allowed. For a whole week, you rely completely on your own resources and have make do with what you brought along with you. Without collaboration and willingness to give freely, nobody would survive for a week, let alone have a good time. But it's the fact that you don't have to worry about anything for a whole week – you can do and say whatever you like and dress however you like – that makes it such a great and addictive experience. In my opinion, you get to see humanity at its best as it shapes a mindful, inspiring and creative environment in which self-sovereignty and collaboration go hand in hand. And in a way, that's not so different from our approach at INNOPAY; we also combine collaboration with freedom for out-of-the-box thinking, albeit in a slightly less extreme way. For me, Burning Man is a fantastic real-life demonstration of co-creation and 'everything transaction' in its purest form!
Let's get in touch
Ready to do business with the experts at INNOPAY?