A special YouTube broadcast by De Nieuwe Wereld/INNOPAY on cryptocurrencies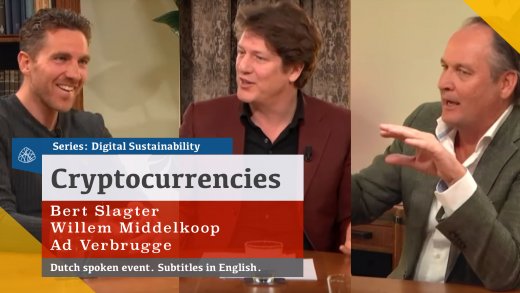 The current financial system will undergo fundamental change over the coming decade. According to the members of the research panel set up by De Nieuwe Wereld and consultancy firm INNOPAY, there is no doubt that cryptocurrencies will contribute to a more stable monetary system. In a special broadcast that has been uploaded to De Nieuwe Wereld's YouTube channel today, journalist and philosopher Ad Verbrugge discusses this topic with Bert Slagter and Willem Middelkoop.
Bert Slagter is a researcher, writer and speaker for the knowledge platform called Lekker Cryptisch. Willem Middelkoop is a publicist, entrepreneur and former financial commentator for Dutch business news channel RTL Z. In this YouTube broadcast, Slagter and Middelkoop provide a clear explanation of what cryptocurrencies are, why they are becoming more popular, their advantages and disadvantages, and their societal impact. Additionally, they discuss several future scenarios for cryptocurrencies.
This is a must-see broadcast if you would like to gain a better understanding of what exactly cryptocurrencies are and what they mean for you.
This broadcast on cryptocurrencies is part of a series organised by De Nieuwe Wereld and INNOPAY on the topic of digital sustainability.
Click here to watch the broadcast: Will Bitcoin become the cornerstone of a new financial system?
Let's get in touch
Ready to do business with the experts at INNOPAY?