Port community platform officially joins iSHARE network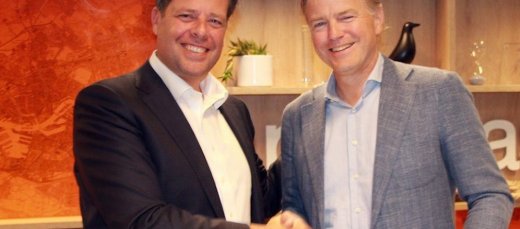 Last week, Top Sector Logistics announced that Portbase – the leading platform for the Dutch port community – has officially joined the iSHARE network. In doing so, Portbase has formally agreed to comply with the iSHARE scheme, thus enabling members of its port community to share data effortlessly and securely – even with organizations that are not Portbase customers. INNOPAY has been facilitating the development and rollout of the scheme for the transport and logistics sector on behalf of Top Sector Logistics since 2016.
Portbase was founded in 2009 by the Port of Rotterdam and the Port of Amsterdam. It offers a digital connection to smart Dutch ports, and companies, organizations and government bodies can exchange logistics data via its Port Community System (PCS) platform. The organization has been involved in the iSHARE initiative since 2016.
Iwan van der Wolf, Portbase Director: "We became an iSHARE Launching Partner three years ago based on a forward-looking vision of data sharing. We wanted to make it simpler and more convenient for our existing customers to share data, especially with organizations further along the chain that are not necessarily Portbase customers. After attending many sessions with other pioneers, I think we can safely say that we have now achieved that. Our involvement underlines our belief in the possibilities offered by iSHARE."
The next level of data sharing
In order to reach the next level of data sharing, it is essential that members of the port community have clarity about who is allowed to do what with which data. The current (often bilateral) agreements relating to identity, data rights and authorizations are inefficient, making it very time-consuming for companies to organize everything properly.
iSHARE has now put an end to all this. Everyone with an iSHARE contract knows one another's rights and obligations, which reduces the need to reach separate agreements. Within iSHARE, it is also possible to indicate that a particular organization needs to receive certain information in order to fulfil its tasks within the chain. This speeds up processes and supports supply chain optimization.
Smarter ports
Thanks to the incorporation of iSHARE into current and future services, Portbase, the members of its community and associated companies throughout the entire chain will be able to exchange more information, resulting in smarter port operations.
Douwe Lycklama, founder of INNOPAY and iSHARE Lead: "iSHARE is a unique, secure and controlled solution for providing data access that allows data owners to retain control over their own data, no matter where they are in the chain. Because they have more control, they are more willing to exchange data with other organizations – and that's good news, not only for the Dutch port community but also for the global competitiveness of the Netherlands as a whole."
Pictured: Iwan van der Wolf from Portbase (l) and Douwe Lycklama from Stichting iSHARE (r).
Are you interested in learning more about iSHARE? Are you looking for solutions to help streamline data sharing in your supply chain, while retaining control over your own data? Are you keen to develop new business models based on data sharing? INNOPAY's support for transport and logistics organizations ranges from exploring use cases to full iSHARE implementation. Contact us for more details.
Let's get in touch
Ready to do business with the experts at INNOPAY?