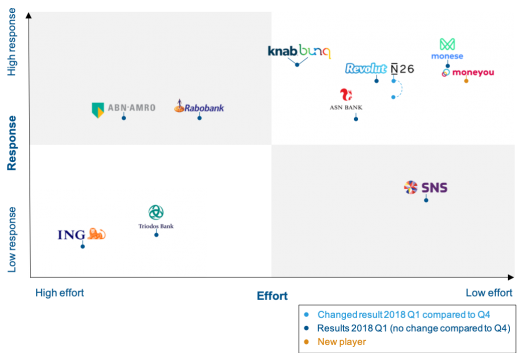 Insights Q1 INNOPAY Onboarding Benchmark 
Although newer and smaller banks are more agile than their larger, more established competitors, they are being outclassed by a new kid on the payments block. This is one of the interesting conclusions of the latest INNOPAY Onboarding Benchmark. 
New kid on the block
The new kid on the block is Moneyou. Moneyou is an independent daughter of ABN AMRO Bank and a Pan-European player who used to primarily offer savings. As of end 2017, Moneyou added payments to their service portfolio and launched its onboarding process. Moneyou understands that onboarding is an important differentiator and they immediately measure themselves with other challenger banks such as Monese and N26. So, what are great features of their process?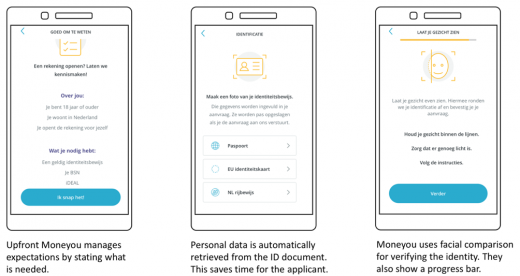 Moneyou has a fully digital process, with no need for paper processes. In order to identify and verify their customers, Moneyou leverages common digital techniques such as taking a photo of the identification document, taking a selfie and executing an iDEAL payment. They seem to focus on an intuitive and easy customer experience. It is clearly stated which data and attributes are required upfront, a progress bar is shown and the customer has only to fill in a minimum set of personal attributes as automatic pre-filling is realised via OCR.
N26 is moving up
Another difference compared to Q4 2017 is N26, who improved on their effort position by replacing video calling with a selfie and photo of the identification document (similar to Moneyou). Video calling was the logical initial choice for N26, as they first launched in Germany where this technique is pushed by the BaFin[1]. Video calling requires the customer to interact with a call agent, and when busy, an appointment needs to be made which can take up to hours. Based on our experience, customer responses to video calling vary. Some find it somewhat intrusive, and difficult to understand that the first interaction is with a non-native call agent rather than with the bank. For others, it's a convenient way of onboarding as it requires the customer only to show their identification document and no additional payment is required.
Change at Rabobank
Our last remarkable finding refers to Rabobank, who released a new digital onboarding process specifically for their current customers turning 18. Although this particular process falls outside the scope of our research, it is definitely worth mentioning. Rabobank has started to transform small, which is exactly the advice we would give to more established players. Look for less-risky sample environments, such as current clients turning 18, to introduce a new process. Learn from this and then expand towards other products or customer segments. That is exactly what being agile and customer-centric is about!
Fully digital is still to come
Altogether, we do not see remarkable changes in the benchmark over the last three months. This is a striking result on its own, especially when looking at the challenger banks. Being agile also means to constantly improve processes. It remains to be seen why the banks (except N26) didn't change their processes. It might be a consequence of prioritisation. Q1 was an exciting period for banks, working on the implementation of GDPR and PSD2. Besides, for the more established players, it might take longer than three months to introduce their fully digital processes, as they have to deal with a more complex environment, also highlighted in our previous blog.
We do however advise to continuously improve the onboarding process. It is the first interaction with the customer and you never get a second chance to make a first impression. Small changes can already change the customer experience for the better.
Are you looking for help with (re)designing your onboarding processes? Feel free to reach out to us, we are happy to meet! Mid-summer we hope to show more banks moving to the right and up. Follow us and stay tuned!
About the INNOPAY Onboarding Benchmark
INNOPAY is dedicated in helping clients to embrace the opportunities of the digital ecosystem. Onboarding is the first interaction of the organisation with the client and an important enabler to establish trust. Through our Onboarding Benchmark we provide organisations exceptional insight into how their onboarding processes compare to other organisations in the financial services sector, reasoning from a customer perspective. Every quarter we update the benchmark, allowing banks to learn from each other and to ensure that onboarding remains a topic on the agenda. For more information on the benchmark, we invite you to contact us, or to visit our website: 
https://innopay.com/innopay-onboarding-benchmark/
---
[1] The Federal Financial Supervisory Authority better known by its abbreviation BaFin is the financial regulatory authority for Germany.
Let's get in touch
Ready to do business with the experts at INNOPAY?