Innsider is delighted to congratulate Mounaim Cortet on 10 years at INNOPAY. To celebrate this professional milestone, we asked him to tell us more about himself and his work at INNOPAY, and to share his views on data sovereignty and digital sustainability.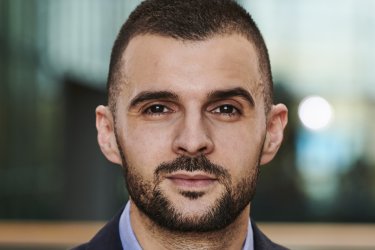 Mounaim Cortet
Director and Country Manager DACH region
Mounaim is a seasoned strategist who is fascinated by the nexus of business strategy and the growing opportunities of regulation, data and technology.
Read more
Mounaim joined INNOPAY as a Business Analyst in June 2012, straight from the Erasmus University - Rotterdam School of Management. After gaining his bachelor's degree in Technical Business Engineering, he had completed a master's in Business Administration with a specialisation in Strategic Management. Since then, Mounaim has held several different roles within INNOPAY and worked on numerous projects for various types of market players in Europe and beyond who operate in payments, digital identity and Open Finance – which he explains more about in this video. On 1 May 2022, he was appointed as Country Manager for the DACH region, where he is responsible for the operations and further market development – a role which he describes as "ambitious, impactful and exciting".
What attracted you to join INNOPAY?
I was attracted by the chance to work on innovative digital propositions that create a real impact with – and for – our clients. When I joined, INNOPAY was (and still is) on a growth journey; I wanted to be part of that journey and to provide a valuable contribution to our growth.
What do you like most about your job and working at INNOPAY?
I love the fact that my job helps me to stay ahead. I'm working at the cutting edge of business, technology and regulation to create new, high-impact digital products and services that change how we all interact and transact in our daily lives. As for working at INNOPAY, the company is characterised by forward thinking, collaboration, responsibility and ownership. You're empowered to take ownership of your own career path and personal development. And if you have a great idea that will improve things for yourself, your colleagues or our clients, you're encouraged to pursue it. Whenever we face challenges or get 'stuck' on a certain growth plateau, the drive and ambition is always there to break through it. Besides that, I'm privileged to work with some of the brightest and most creative minds in the industry, combined with colleagues who share similar interests and who are great fun too. The sum of all of these things has kept me at INNOPAY for over a decade now!
What is the most important goal you are working towards right now?
From an external perspective, my goal is to help our clients create sustainable value in open digital ecosystems in payments, digital identity and Open Finance. Internally, the key goal is focused on further strengthening our core foundation in order to sustainably grow our consulting practice in the DACH region so we can provide continued support to existing and also new clients.
Data sovereignty and digital sustainability are hot topics right now. Based on the signs you see in the market, what is the current state of awareness?
I think the awareness is growing on all levels of the ecosystem, spanning regulators, service providers and end users (both businesses and private individuals). This is also evident in the nature of client projects; customers are keen to understand the latest developments and their strategic implications (opportunities and risks). They want to know what action to take to stay a step ahead and secure their future relevance in the evolving digital economy.
When it comes to digital sustainability, what do you expect to be the one main game changer ahead?
The real game changer will happen when European regulatory initiatives succeed in putting various frameworks in place to prepare the full ecosystem – both the demand side and the supply side – for a sovereign and sustainable digital economy based on customer centricity, privacy and security as some of the key design principles.
What has been your biggest professional achievement so far?
Being appointed as Country Manager for the DACH region within less than a decade of joining INNOPAY. I am now looking forward to contributing to the ambitious growth plans that we have in the DACH region. We've been working on this for some years, but now it's time to accelerate.
What is the best advice you have ever received?
"Take one risk a day". Whether in a personal or professional context, you need to push yourself out of your comfort zone if you want to evolve.
Let's get in touch
Ready to do business with the experts at INNOPAY?