INNOPAY is delighted to congratulate Denise Hoppenbrouwer on five years at INNOPAY. To celebrate this professional milestone, we asked her to tell us more about herself and her work.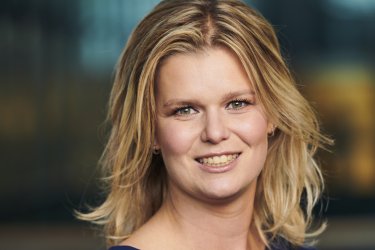 Denise Hoppenbrouwer
Denise Hoppenbrouwer is consultant at INNOPAY. She likes to combine her technical background with a practical and innovative approach to build bridges between technological solutions and business implementations.
Read more
Denise started working at INNOPAY on 1 November 2017 as a Business Analyst. After completing her BSc in Science, Business and Innovation in Amsterdam, she did a master's in Innovation Management in Eindhoven. As part of her studies, she spent one semester studying International Business and Technology Management in Finland and did her six-month graduation project at Deloitte. Since joining INNOPAY, she has worked on the iSHARE data sharing scheme in the Netherlands, contributed to a diverse set of data sharing initiatives and written multiple research papers on digital transactions. The past five years have also had somewhat of an international flavour for Denise, including supporting the global department of an international bank, a Malaysian project and trips to Poland, Germany and Belgium. Today, she is the Project Manager of the Data Sharing Scheme for the architecture, engineering and construction (AEC) sector in the Netherlands. She lives in Rijswijk, which is zero minutes from her home office, 30 minutes from her current client's office and one hour from the INNOPAY office.
What attracted you to join INNOPAY? 
When I finished university, it was already clear to me that I wanted to pursue a career in consulting, as I liked the idea of a steep learning curve and project-based working in a team. Spending half a year at a large consulting firm helped me to realise that I preferred to seek forward-focused challenges rather than improving on what is known today. One reason I chose INNOPAY is that it's a smaller organisation that has a strong track record in innovative projects. Another reason is that I immediately felt a connection with INNOPAY. Just two minutes into my job interview, I forgot that I was in an interview; it felt more like an informal discussion with liked-minded people about my view of the world and the future.
What do you like most about your job and working at INNOPAY? 
I love being challenged every day by clients, colleagues and other stakeholders to solve complex puzzles. Besides this, the people and the culture here play a big role. The senior management are very approachable, and my colleagues are fun, smart, ambitious, eager to learn and always pushing the boundaries. This contributes to us developing creative solutions together – not only within our team, but also in collaboration with our clients. That collaborative approach is an important part of INNOPAY's DNA.
What are your main short-term goals?
For this year, my team's main goal is to realise a first version of the data sharing scheme, create support within the AEC sector and showcase first use cases. On a longer-term horizon, the scheme is intended to contribute to easier, more efficient and more trusted data sharing in the sector, which will support broader social responsibilities and targets such as reducing nitrogen emissions.
Based on the signs you see in the market, what is the current state of awareness of data sovereignty and digital sustainability? 
I believe we are still at an early stage. We are seeing that a growing number of people and organisations want to stay in control of their own data, yet at the same time just as many – if not more – organisations want to take control over the data chain in their ecosystem. So we still have some way to go, especially because there is still a certain degree of hesitancy to trust others with one's data. As people start to understand data sovereignty and digital sustainability better, we can take away their doubts and enable trusted data sharing.
What do you expect to be the one main game changer ahead in terms of digital sustainability? 
I believe that awareness is growing steadily and public opinion is already changing due to various data scandals. Although unfortunate, such scandals are helping policymakers, organisations and citizens to realise that the way in which we currently treat our data isn't sustainable.
What is a project that you are proud of?
In my first year at INNOPAY, I joined the project to set up iSHARE: a data sharing scheme for the logistics sector. Within a short time, I became responsible for the adoption of the scheme and discussing its benefits with various organisations, from board members to developers. Being given so much responsibility in such a short space of time was a great learning curve which is still proving valuable in my current projects.
Let's get in touch
Ready to do business with the experts at INNOPAY?