'Ecosystems' are the next digital paradigm after the classical 'winner takes all' platformisation we have become accustomed to. Operating successfully within ecosystems requires a collaborative mindset, geared towards value disciplines such as customer intimacy, product leadership, operational excellence, compliance – and that's where our collaborative approach comes in.
In order to achieve success and create value for shareholders, both now and in the future, you must continuously take a close and critical look at your portfolio, your organisation and your processes to ensure you remain relevant – and hence competitive – based on your organisation's strategic approach.
But things are moving fast in this age of digital transformation, and they are set to move even faster in the years to come. Customers decide whether or not to work with you in the blink of an eye. In two-sided markets, there is a noticeable shift away from the 'winner takes all' system toward a collaborative ecosystem in which a shared vision and co-creation result in faster adoption.
If you want to continuously optimise your performance in this new, collaborative world, you will increasingly be required to work digitally with other parties in your ecosystem, or perhaps even in other ecosystems.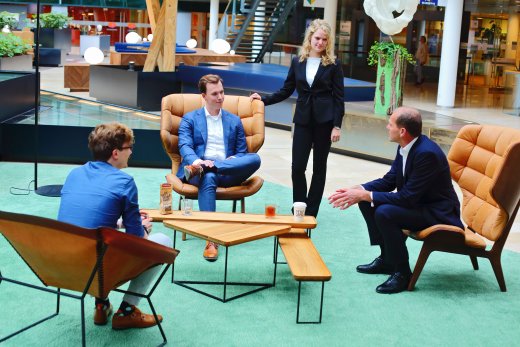 We help to grow the pie for everyone
At INNOPAY, you won't find silo-based thinking aimed at increasing your slice of the pie. Instead, we focus on growing the pie for everyone. We do so by creating opportunities and possibilities for cooperation throughout entire ecosystems, making collaboration seamless, secure and attractive for all parties involved rather than just some of them.
Boundless and non-zero-sum game thinking is in our DNA. We have almost 20 years of experience with helping organisations and consortia to support and strengthen their competitive advantage through collaboration.
We've developed our own proven co-creation process especially for organisations that team up in associations ('ecosystems') that represent a whole sector. What makes it so popular in digital transformations is that it holistically blends robust project management, stakeholder alignment, very well-prepared co-creation sessions, clear governance, facilitation and guidance with in-depth Business, Technology and Regulatory (BTR) expertise in the domains of Data Sharing, Digital Identity and Payments. We call this the 'Collaboration by INNOPAY' approach.
While we will go the extra mile for you, our approach also requires your commitment.The more you are willing to invest in terms of both your time and your trust, the bigger the  rewards will be. You will not only succeed in sustaining and improving your long-term relevance to your customers, employees, suppliers and society at large, but there will ultimately be more pie for everyone.
That's what makes INNOPAY different.
Let's get in touch
Ready to do business with the experts at INNOPAY?