We are delighted to congratulate Vincent de Rijke on 5 years at INNOPAY. To celebrate this professional milestone, we asked him to tell us more about himself and his role at INNOPAY, and to share his views on data sovereignty and digital sustainability.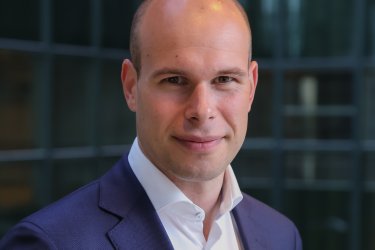 Vincent de Rijke
Vincent is a Manager at INNOPAY. He has a solid corporate and strategic background in Banking, Insurance and Mobility. He is an expert in organisational transformation and Open Finance innovation.  
Read more
Vincent started at INNOPAY on 25 September 2017 as a Consultant. He holds two master's degrees: one in Psychology from Leiden University, and the other in Business Administration – Finance and Investments from Erasmus University Rotterdam, which also included a semester abroad at Saint Petersburg State University in Russia.
He kicked off his career as a management trainee at a Dutch insurance company, where he worked for four years before joining INNOPAY. Regarded by others as a sympathetic and helpful go-getter, he is now a Manager, which he describes as a "lively, challenging and rewarding" role.
Currently, his main goal is to innovate the payment system for Dutch public transport, replacing the current OV-chipkaart card with several innovative (mobile) payment methods.This will ultimately have a direct impact on Vincent himself, since he regularly uses public transport for the 45-minute commute between his home in Leiderdorp and the Amsterdam office.
What attracted you to join INNOPAY?
After 4 exciting years in the insurance industry, I saw an opportunity at INNOPAY to build upon my acquired skills while working on projects that have a real impact.
What do you like most about your job and working at INNOPAY?
I'm learning new things every day from the interesting projects and internal activities. I also like the people I work with – they are all amazing, bright, ambitious and smart achievers. Above all, I enjoy the collaborative and complex nature of the projects I am involved in. I love the fact that, as a team, we can really deliver value and make an impact in the world of transactions, producing tangible results while having fun at the same time.
How do you contribute to the team?
Obviously I bring a lot of insurance and pensions-sector knowledge, and I also have knowledge of open business models. Besides that, I contribute communication tactics and strategies for complex multi-stakeholder situations. In addition, I support general coaching and personal development. And I'm a keen cyclist, so some of my colleagues turn to me for cycling tips & tricks.
Based on the signs you see in the market, what is the current state of awareness of data sovereignty and digital sustainability?
The awareness of data sovereignty and digital sustainability seems to be growing, mainly amongst policymakers and experts in the field. However, I would argue that data sovereignty is a very important subject that has yet to become top of mind for business decision-makers.
What do you expect to be the main game changer ahead in terms of digital sustainability?
I expect that public demand for a more sustainable environment, especially among younger generations, will go hand in hand with a growing need for digital sustainability.
What motivates you to get out of bed in the morning?
Knowing that I am able to enjoy a great and fulfilling life, being there for others and making an impact for clients.
What is the best advice you have ever received?
Stay authentic, have trust in your strengths and have fun. That way, you'll be the best version of yourself and you'll inspire others.
Let's get in touch
Ready to do business with the experts at INNOPAY?