Innsider is delighted to congratulate Georges Koegel on five years at INNOPAY. To celebrate this professional milestone, we asked him to tell us more about himself and his role at INNOPAY.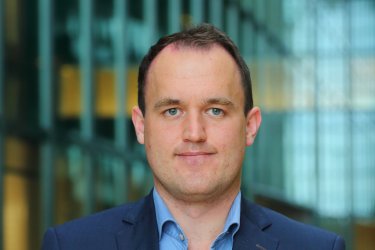 Georges Koegel
Georges is Consultant at INNOPAY and graduated Master in Business Management (M.A. HSG) at the Swiss University St.Gallen.
Read more
Georges started at INNOPAY on 24 July 2017 as a Business Analyst. Born in Luxembourg, he joined straight from university in St. Gallen (Switzerland), where he obtained his BA in Business Administration and his MA in Business Management. He is now a Senior Consultant, which he describes as a "challenging, fun and inspiring" role. Currently, his main goal is to further improve his leadership skills and to continue to help INNOPAY take the next step in its growth. Depending on the project, his role often involves working with – and sometimes visiting – clients in various countries outside of the Netherlands, including the UK, Austria, Germany, Luxembourg, the Nordics and the USA.
What do you like most about your job and working at INNOPAY?
I really like the culture at INNOPAY; I have the flexibility to plan my own work and maintain a healthy work-life balance. I also have continuous possibilities to grow and take responsibility in diverse and challenging projects to support a wide range of different organisations. It's very rewarding to take a deep dive into complex and pressing challenges and to devise new and innovative solutions. I also enjoy working together with so many like-minded colleagues to play a part in shaping the future thinking and vision. We have shared beliefs regarding topics such as digital transactions and data sovereignty, which we embed in everything we do. As a result, the past five years have gone by very quickly!
What characterises INNOPAY?
At INNOPAY, the keyword is collaboration, both with colleagues and clients. We are competitive and everybody plays to win, but the focus is on winning together. Our work revolves around innovation, vision and knowledge; we always have an eye on the bigger picture and an opinion on the 'next big thing'. Everyone is encouraged to explore innovative topics as well as to take ownership and responsibility to support the further growth of INNOPAY and its clients. Driven by our passion for innovation, we tend to over-deliver, going above and beyond the scope of our projects in order to help and educate our clients and society as a whole. Last but not least, I find the culture very open, and various rituals such as coffee mornings, informal drinks and spontaneous Q&A sessions help people from all kinds of backgrounds to quickly feel very welcome here.    
Tell us more about your colleagues. How would you describe each other?
Everyone is a bit of an 'entrepreneur' with their own special qualities, of course, but generally all my colleagues are friendly, interested, innovative, results-driven, helpful and smart. I think they would describe me as steady, reliable and open-minded.
Based on the signs you see in the market, what is the current state of awareness of data sovereignty and digital sustainability?
Awareness of data sovereignty and digital sustainability is rapidly increasing as people and companies become more accustomed with the digital world, its transformative power and one of its key resources: data. The digital world is global, fast and without borders. This creates both opportunities and challenges that demand a more sustainable approach in which everybody shoulders their responsibility to ensure that the digital world lives up to its potential, i.e. to become a place of increased added value for everyone. But even though awareness is increasing, adoption is still lacking. That's why at INNOPAY, in collaboration with actors from all parts of society, we are continuing to work on finding ways to accelerate adoption.       
What do you expect to be the main game changer ahead in terms of digital sustainability?
One game changer will be increasing transparency into digital sustainability based on metrics, to highlight current imperfections and problems. Besides that, new digital technologies and regulations will help to drive adoption.
What is the best advice you have ever received?
"Always be prepared and actively think ahead" – this makes things easier for yourself and above all for a lot of other people. It doesn't actually demand a lot of effort, but it has a big impact in terms of efficiency, collaboration and results. For instance, before going to a meeting, spend five minutes thinking about what you want to achieve, what you can prepare to facilitate the discussion, etc. 
Let's get in touch
Ready to do business with the experts at INNOPAY?