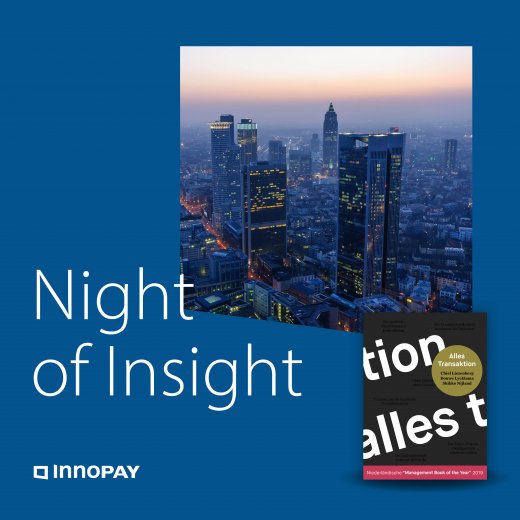 Techquartier, Platz der Einheit 2, Frankfurt am Main
Unleashing the future: INNOPAY's Night of Insight - Embedded Finance
Join us for an enlightening evening of discovery at INNOPAY's Night of Insight: Embedded Finance on Thursday, September 7th, from 18:00 to 20:00 at the vibrant TechQuartier in Frankfurt.
Embedded Finance: shaping a seamless financial future
Explore the captivating realm of Embedded Finance with INNOPAY. Seamless integrations of financial services in everyday platforms, right at the point of need, revolutionise customer experiences and unlock innovative business models.  Together, we will look at the promising potential of this seamless financial future. 
What to expect?
Get an exclusive sneak peek into our upcoming Embedded Finance Radar study, where we extract and highlight global trends, best practices, and innovations from hundreds of use cases. 
Discover a comprehensive overview of the Open Finance Framework, its significance, and the exciting avenues it opens up in the financial landscape.
Gain valuable perspectives from industry leaders, including Jens Holeczek from the National Association of German Cooperative Banks (BVR), as they delve into the transformative power of Embedded Finance.
Where:           TechQuartier, Platz der Einheit 2, Frankfurt am Main
Date:              Thursday, 7 September 2023
Time:              18:00-20:00 PM