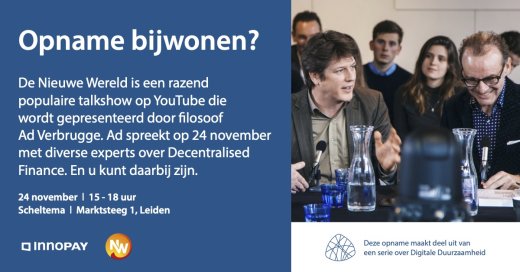 Scheltema, Marktsteeg 1, Leiden, The Netherlands
Together with the highly popular De Nieuwe Wereld YouTube channel, we are organising a talk show about Decentralised Finance on 24 November. Philosopher Ad Verbrugge and various experts will discuss the rise of Decentralised Finance and where it's heading.
The panel of experts includes Bert Slagter (crypto expert), Simon Lelieveldt (expert in payment transactions), Johan van den Neste (chairman of the board of Univé Schade and Univé Her), Teunis Brosens (Head Economist for Digital Finance and Regulation at ING), and Douwe Lycklama (INNOPAY founder).
The talk show will be hosted at Scheltema, Marktsteeg 1 in Leiden, the Netherlands. Doors open at 14:30 h and the programme starts at 15:00 h. Recording is scheduled to finish at 17:00 h and drinks will be served afterwards.
We have a limited number of seats available in the audience, so if you and/or one of your colleagues would like to attend the recording, please let us know by email by latest 12 November: event@denieuwewereld.tv.
The talk show will be held in Dutch.