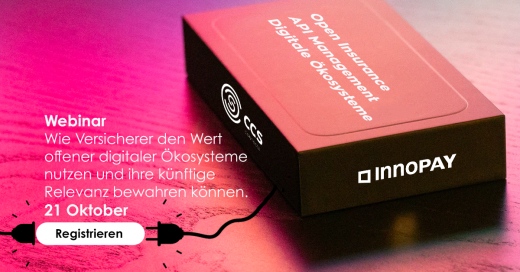 Online
In the current digital transaction era, we are seeing the emergence of new open digital ecosystems offering huge volumes of relevant customer data and new opportunities for customer interaction. To ensure their future relevance insurers need to gain access to these ecosystems to develop futureproof business models, risk models and distribution models. In other words, they need to become an Open Insurer.
INNOPAY – an international consultancy firm specialised in digital transactions – is partnering up with CCS – a Digital Insurance Platform provider for the insurance industry – to organise a free webinar on the topic of Open Insurance. It will provide in-depth insights into how insurers can capture value from open digital ecosystems, the latest developments in Open Insurance and real-life best practices for engaging in digital ecosystems.
This webinar will be held in German. Register for the free webinar by clicking on this link.