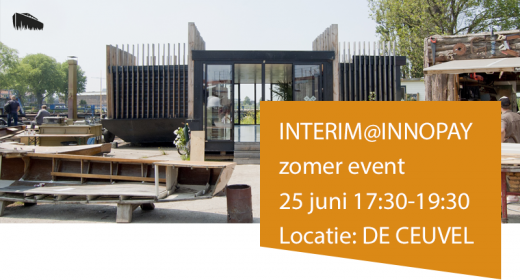 De Ceuvel, Amsterdam
The world is digitizing at a rapid pace. Together with INNOPAY you are in the middle of that rapidly changing world. This raises questions, but also offers new opportunities. For us, but of course for you too.
We invite you to an informal summer meeting - together with us and with other associates - to exchange ideas about our position in that digitizing world. We tell you about our ideas and the assignments that we carry out. We talk to you about the opportunities in the market and about the needs that you have for your business.
The meeting takes place on Tuesday, June 25 at the end of the day. We start around 17.30 and end around 19.30 with a toast to the future. Afterwards we can have a nice meal together, catch up on socializing and start the summer with a drink.
Program:
Introduction and welcome - Matthijs Ros
Explanation about the community - Matthijs Ros

Developing your knowledge and satisfied customers are the principles of our community. We will briefly explain what we have to offer and what we want to achieve together.

Presentation - Everything Transaction - Shikko Nijland

The book - Everything Transaction - has been named Management Book of 2019. The book describes the ideas of INNOPAY and what makes our philosophy unique.

Workshop Interim @ INNOPAY:

In a workshop we will gauge the needs of the community and brainstorm with each other about opportunities.