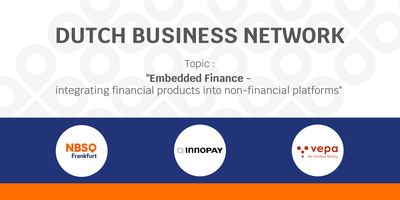 Frankfurt Westhafen Tower
INNOPAY to share insights into Embedded Finance at Dutch Business Network Frankfurt
The Netherlands Business Support Office (NBSO) has invited INNOPAY to participate in its Dutch Business Network Frankfurt meeting on 14 November. As an informal gathering of Dutch business professionals, companies and entrepreneurs based in and around Frankfurt, Germany, this event is designed to facilitate business connections, collaboration and information sharing. INNOPAY's Jeroen van der Hoeven and Tim Gillieron will hold a presentation on 'Embedded Finance – integrating financial products into non-financial platforms'.
Members of the Dutch Business Network Frankfurt come from various industries, including finance, trade, technology and more. The network regularly organises events, meetings and seminars to promote networking and knowledge exchange, and to strengthen the ties between the Dutch and German business communities in Frankfurt.
NBSO provided support in the early phases of the opening of INNOPAY's German offices in Frankfurt, and continues to be a valued partner. Besides that, INNOPAY Germany employs several Dutch-speaking employees who are always eager to connect with other Dutch business professionals, companies and entrepreneurs in the Frankfurt region.
The event starts at 18:30 on 14 November at the Vepa Showroom in Frankfurt's Westhafen Tower. 
For more details and registration, go to Dutch Business Network site.