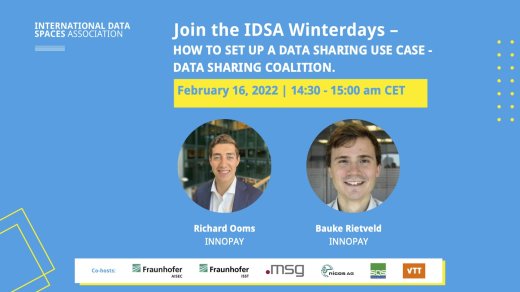 Online
IDSA Winterdays 2022
Data spaces will be the leading topic of this year's International Data Spaces Association (IDSA) Winterdays. During the Winterdays you will get all the ingredients and recipes needed to build and run data spaces. On 16 February, INNOPAY's Richard Ooms and Bauke Rietveld will, on behalf of the Data Sharing Coalition, share their knowledge and talk about 'How to set up a data sharing use case'. 
In 12 sessions IDSA will show you how companies and IDSA members are leveraging the potential of sovereign data sharing in their industries. The IDS Winterdays combine workshops, pitch sessions and discussions – all part of an interactive online event.
For more details and registration, go to the IDSA Winterdays website.