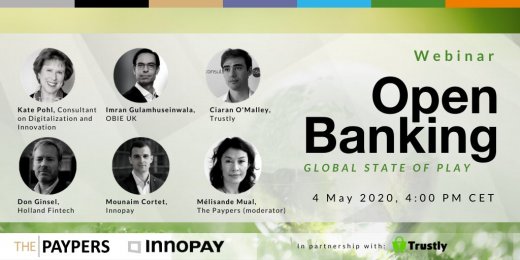 Last Monday, INNOPAY – in cooperation with industry-news publisher The Paypers – hosted a webinar on the current state of play in the Open Banking arena. Open Banking is rapidly gaining traction and attention, and this was reflected in a very high level of interest among participants. In fact, the webinar attracted registrations from over a thousand professionals – including bankers, fintechs, payment service providers, regulators and consultants – from right around the globe.
During the webinar, we briefly set the scene by presenting INNOPAY's three benchmark studies. The first was a study of the various Open Banking frameworks worldwide which was conducted together with The Paypers. We also provided a sneak preview of the findings from the new INNOPAY Open Banking Monitor (to be published soon). Last but not least, we presented INNOPAY's TPP Radar, which provides an overview of the propositions currently being developed by licensed third parties in the EU.
After the presentations, a panel discussion addressed three main questions: Which challenges are holding back adoption? What examples of successful and promising Open Banking use cases are there? And what does the future of Open Banking and the Open Data Economy look like? These questions stimulated some interesting discussions between the panel members: Kate Pohl (Senior Consultant on Digitalization and Innovation), Imran Gulamhuseinwala (Implementation Trustee for Open Banking Implementation Entity), Don Ginsel (Holland FinTech), Ciaran O'Malley (Trustly), Mounaim Cortet (INNOPAY) and Mélisande Mual (The Paypers).
We would like to say a big thanks to all participants. If you were unable to join us for the webinar, you can watch the recorded version by clicking on this link. For more information on the study, read the full report here.
Let's get in touch
Ready to do business with the experts at INNOPAY?