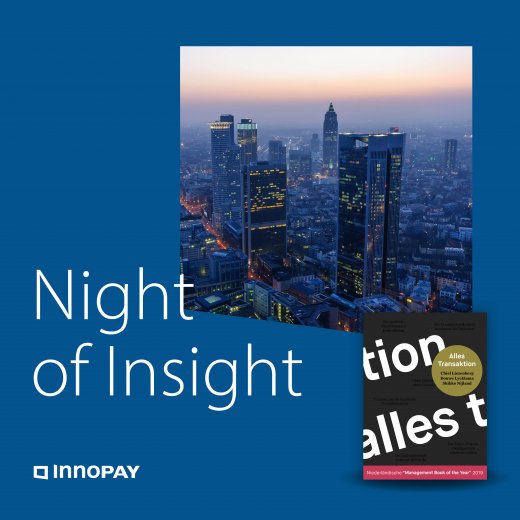 techquartier, platz der Einheit 2, Frankfurt
INNOPAY's Night of Insight - Innovation in Payments
Join us for an enlightening evening of discovery at INNOPAY's Night of Insight: Innovation in Payments on Thursday, November 23 rd, from 18:00 to 20:00 at the vibrant TechQuartier in Frankfurt.
Innovation in Payments: Battle for Infrastructure & Relationship
New players are disrupting the payments value chain and new technologies are reshaping the way people browse, shop & pay. A myriad of trends in payment methods, consumer needs, and value-added services influence power dynamics among players (Banks, Fintechs, Bigtechs, Paytechs, PSPs).
On this Night of Insight, we will dive into the renewed positioning of these players and how it results in both a battle for control of the payment infrastructure and a battle for the relationship & primary touchpoint with the customer. Various scenarios on how this could play out will be discussed, as well as the implications and opportunities for the payment ecosystem for each scenario (e.g., what happens if card-based wallets or a super app become dominant in Europe?).
What to expect?
An overview of most relevant Trends in Payments, along with implications for the market and consumer (e.g., Click-to-Pay, Virtual Cards, Digital Wallets, Embedded Finance, CBDCs, Web3, Request-to-Pay, BNPL, Mobile POS, Instant Payments)
A discussion around the battles for infrastructure and consumer relationship, how it changes the market dynamics, and how it affects the strategic positioning of Banks, Fintechs, Bigtechs, Paytechs, PSPs, and Payment Orchestrators - what should they do to remain relevant and where should they play?
Where:           TechQuartier, Platz der Einheit 2, Frankfurt am Main
Date:              Thursday, 23 November 2023
Time:              18:00-20:00 PM