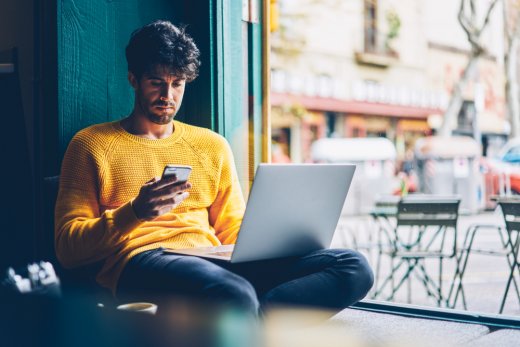 INNOPAY helps companies and public institutions to innovate in their digital transformation - from strategy to execution - by offering tailored consultancy services by combining business, technology and regulation (BTR) expertise and insights. We help our clients to navigate in the world of digital transformation and move towards new business models to leverage the opportunities that a more open and data-driven economy offers.
MORE THAN EVER organisations (corporates, SMEs and scale-ups) need to focus on their digital strategy to engage with their customers. The competitive landscape in the financial industry has already changed significantly and will continue to do so in the coming years. Similar changes are starting to occur in other industries (such as Logistics, Mobility, and Public Services). Technology- and data-driven companies, such as scaling Fintech, established Bigtech and the more innovative incumbents, are continuously challenging the existing customer relationships with innovative customer-centric value propositions and business models. INNOPAY specialises in the delivery of innovative strategies, solutions and services across a variety of sectors and helps companies in achieving their business goals.
Requirements
Academic master's degree in business, technology or regulation related fields;
Fresh graduate or max up to 3 years of work experience: preferably within management consulting;
Affinity with topics such as Digital Innovations, Digital Transformation, Digital Payments, Open Banking, Blockchain, Cybersecurity, Artificial Intelligence, Machine Learning etc.
Outstanding record of academic achievements, combined with broad personal development (e.g. international exchange programs, internships, professional extracurricular activities etc.).
Exceptional strategic and analytical skills and a track record of leadership in a work setting or through extracurricular activities.
Fluency in Dutch: highly preferred. Fluency in English: must.
AS MANAGEMENT CONSULTANT you will work closely in a team that advises companies on strategic topics (e.g. data sharing, onboarding, PSD2) in the field of digital transactions. You will be responsible for specific components of the project, such as performing outside-in or inside-out analyses, conducting interviews with clients or specialists. You – together with a team of 1-5 colleagues from different professional backgrounds – will support our international clients with sector-specific knowledge and strategic advice: enabling them to co-create new strategies, services and products. You will translate complex commercial, organisational, and technical information into concrete advice, reports and specifications. Besides project responsibilities, you will have the opportunity to help write proposals for clients and build propositions on key themes (e.g. Open Banking, Data Sharing, Cybersecurity, Advanced Analytics, Internet of Things).
WE OFFER an agile organisation structure and culture that is characterised by entrepreneurship, forward-thinking, collaboration and ownership. We believe in - and will offer you - personal(ised) growth rather than a fixed career path through career coaching and a personal development plan. We offer you a flexible and open working environment where you will be part of innovation projects with true impact.
Also, we rank fun very high, which is reflected by our weekly Friday evening drinks, our annual ski trip, our offsite weekends, sporting events, Christmas party and more!
For more information regarding INNOPAY or this role, please contact us via recruitment@innopay.com
Apply now!
Let's get in touch
Ready to do business with the experts at INNOPAY?